My boyfriend is obsessed with having a threesome!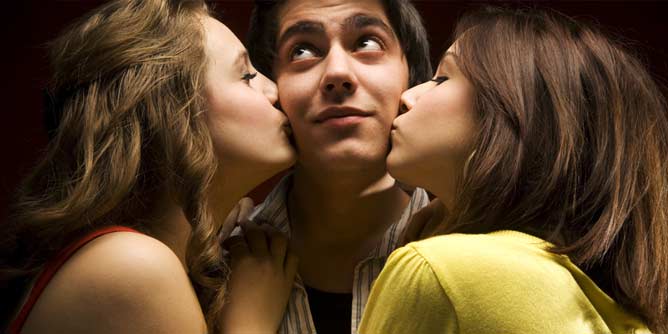 Dear Amie:"My boyfriend seems obsessed with having a threesome, I'm not keen. Should I just give in. I'm not into girls so it does seem to be all about him."
Ahhhh threesomes. Every man's fantasy.
In short, hell NO. You should never ever feel like you have to 'give in' to doing something sexual you're not keen on in a relationship. If you don't want to do it, don't do it. Don't let your boyfriend nag you like a little bitch into being involved in a fantasy where you feel there's nothing in it for you. Where's the fun in that?
Plus, think about it this way. The thing with threesomes is that they only work if everybody who is participating is comfortable and hot for the idea. If you decide to just 'give in', chances are, when you've got another woman's naked tits in your face, you're probably going to feel anxious, a bit like a third wheel and probably a bit pissed off about the whole situation. You glaring at him while he pounds into a random chick is probably not what he factored into his fantasy.
It's a big wide world out there when it comes to sex, and fantastically, there's more than one way to have a threesome.
If you're curious about the idea of group sex but women aren't on your sexual radar, why not compromise and suggest a threeway with him and another dude? If he immediately baulks at the idea or justifies his "no" with a "but I'm not into men", then you have an excellent example for explaining why tandem sex with him and someone of the same sex isn't your cup of tea either.
Quite often just talking out our fantasies does it for us. If you're okay with a little threeway fantasy dirty talk during the heat of the moment, maybe you could make it clear to him that having a threesome with another woman isn't something you're interested in exploring in real life, but you're happy to talk about it during sex. Also, if you enjoy a bit of porn yourself, you could suggest a hot date with the two of you involving trawling through some group sex porn until you find some videos that spark something for both of you.
If by this point, you've explained to your boyfriend that you'd rather get your arse waxed than go down on another woman and he's still gung-ho about a threesome, it's time to have a seriously unsexy chat. Like everything in a relationship, it all comes down to communication, honesty and respecting boundaries.
Copyright © 2020 Amie Wee It is illegal to use any or all of this article without the expressed, written permission from Adult Match Maker and the author. If you wish to use it you must publish the article in its entirety and include the original author, plus links, so that it is clear where the content originated. Failure to do so will result in legal action being taken.