We're celebrating Cake and Cunnilingus Day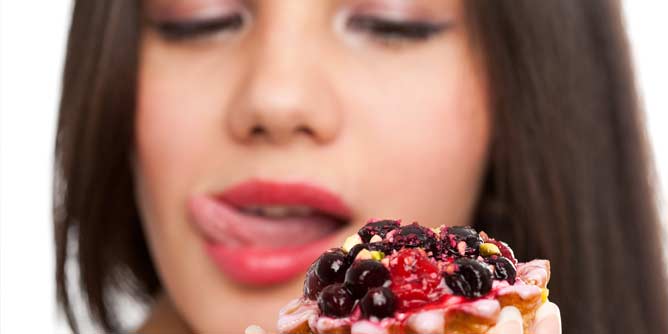 This article was originally published on Ms Naughty's blog and is reproduced with permission.
In 2006, upon hearing about "Steak and a Blowjob" Day, Ms Naughty decided it was time that women had a similar holiday, something that echoed the desire for oral sex and food.
She summed it up in her blog post: "Apparently yesterday was "Steak and a Blowjob" day. The idea is that Valentine's Day is all about giving women roses and cards and a month later it should be the boy's turn.
Well, screw that! Valentine's Day is about love (or is that commercialism?) and it's about expressing love, no matter what your gender. If men think it's about being forced to buy cliched gifts for women, that's their problem.
If the men want a sexually-themed "show you care" day, then I demand one for us women as well. Let's start the Cake and Cunnilingus Day movement right here, right now. Let's make the official day April 14, since that's a month after the men's day.
Cake and Cunnilingus Day should be about female pleasure. About enjoying life's pleasures without guilt or shame. About gorging down chocolate mud cake as our lover sticks his eager tongue into our hot, wet pussies.
Let's make it about demanding equal rights to pleasure in bed. Let's use it to say that we deserve an orgasm EVERY TIME! Let's storm the porn factories of California and demand female orgasms in every movie!
To the barricades! Take no prisoners!"
And so Cake and Cunnilingus Day was born and we have an Aussie to thank for it. And over 10 years later Cake and Cunnilingus Day has grown in recognition to the point that it's been mentioned in plenty of blog posts and even has an erroneous Urban Dictionary definition.
Cunnilingus has long been given short shrift in our culture, suppressed by taboo and secrecy. It's one of the rarest acts in pornography and mainstream films hesitate to show it. Ms Naughty has also written a follow up article about why we need it more than ever.
That's why Cake and Cunnilingus Day is important. It gives women a light hearted opportunity to declare their desire for pleasure and it gives men a chance to show their support and interest in cunnilingus. The only way we can overcome the taboo surrounding oral sex on women is to start honest conversations about the act and to normalise and celebrate it.
Of course, it doesn't have to be all about cake. If you're so inclined you're welcome to celebrate Muffins and Muff Diving Day. Or Pudding and Pussy Licking Day. Or even Candy and Clit Licking Day. The important thing is that our coochies get the oral treatment they deserve!
Every day should be Cake and Cunnilingus Day!
Copyright © 2020 Adult Match Maker It is illegal to use any or all of this article without the expressed, written permission from Adult Match Maker and the author. If you wish to use it you must publish the article in its entirety and include the original author, plus links, so that it is clear where the content originated. Failure to do so will result in legal action being taken.