The Da Vibe Code – What do those buzzwords actually mean?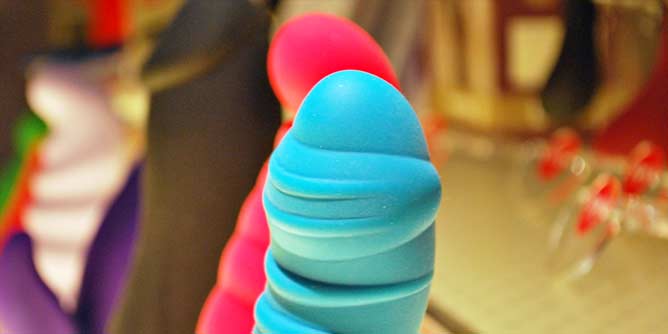 Buying a new sex toy can be a super fun experience. The anticipation of your new goodie and how it will feel when you use it is exciting and a little arousing. Before buying, however, it's essential to do a bit of research and work out which will be the best toy for you and your bits. But sometimes, if you're not the sort of person who spends a lot of time looking at vibrators, the terms and phrases used can be a bit confusing.
In the spirit of education and knowledge sharing and, of course, you getting the toy that's best suited to you, here are some of the most commonly used words associated with sex toys and what they actually mean so you can make a better, more informed choice on your next shopping trip.
Vibrations:
Buzzy: This usually means the toy has a very fast vibration that is often concentrated in the tip of it and is mostly used for clitoral stimulation. Think toys like the We-Vibe Tango or the Nu Sensuelle Point. Very strong vibrations for precision attention to one area.
Rumbly/Deep: Mostly used to describe the mechanics of thicker toys that are used internally. When a toy is described as being "Deep" or "Rumbly" means the vibrations are not only distributed more evenly along the shaft, they also feel a bit thicker and more purposeful inside (some people describe them as more "thumpy than tinny") especially if you're wanting to stimulate the G-spot.
Thrusting: Exactly what it sounds like, either by use of springs or pistons (or in the case of the Fun Factory Stronics – magnets!) the toy will thrust in and out or up and down and mimic the movement of actual intercourse.
Rotating Beads: Mostly found in Rabbit style toys, rotating beads are a string of beads or pearls on the inside of the shaft that spin around and change the texture of the shaft. They can be really great for internal stimulation and G-spot fun. Expert tip, when you're looking at these in store wrap your fist around the beads in the shaft when it's turned on and see how hard you can squeeze before they shut out. The last thing you want at the point of squeezy-contracting climax is for the internal stimulation to stop. The cheaper the toy the weaker they will be.
Pulses: These are the different vibrating patterns the motor will go through. While all vibrators will have a continual buzz, and most will offer you at least a few different speed settings, pulse features can be a bit hit or miss with stop start pulses and waves of intensity. Some people absolutely love the teasing factor of a stilted vibration, whereas others prefer to long steady vibration. Having a variety of features on a toy is a great way to cater to all different desires.
Vibrator Styles:
Bullet: Small, compact and discreet. Usually the size and shape of a bullet or a lipstick. These are mostly used clitorally and are great to use during intercourse because they don't get in the way of the other action
G-spot: an internal toy with a curved head. This curve is specifically designed to reach and push against the G-spot. Some are bigger and thicker than others, so it really is all down to personal preference
Rabbit: A double stimulation vibrator with a longer, thicker shaft for internal play and a small attachment designed to vibrate against the clitoris. They are called rabbits because the attachment on the original styles was shaped like a rabbit with two long clit-tickling ears. These days the bunny shape is still super popular with designers but there are also other types of critters and generic finger-like shapes as well.
Straight: A vibrator that is just straight up and down. No curves, no curls, no attachments, no fancy bits and bobs. Popular as beginner toys and often used both internally and externally.
Wand: These are the mega-big body massager type toys that Hitachi still won't recognise is a sex toy. Designed for relief of aching muscles these ridiculously powerful vibrators soon found fame in other areas of the body. The originals were plug into the wall style but these days you can get them cordless as well.
Dong: Basically a sex toy with no motor. Usually shaped like a penis (sometimes with balls) and used in a strap on, but can also just be used with your hands. A dildo also falls under this category, however a dildo isn't necessarily penis shaped, whereas a dong usually is.
Materials:
Silicone: Ideally this is what you want your toys to be made of. It's body safe and long lasting. Because it's not a porous material you can be assured it won't harbour germs or mould, and if the toy doesn't have a power source you an even dishwasher it clean. Every now and then a company will try and sell a TPE/TPR toy and claim it to be silicone but the big tell there is SILICONE IS NOT SEE-THROUGH. Yes, you can get some that is a sort of cloudy type colour… But the see-through jelly type stuff is NOT silicone so please don't be sucked in.
TPE/TPR: You know that see-through jelly stuff a lot of cheaper vibrators are made of? They are made of this stuff and although it might look pretty it's really not very good for you. The material is porous and will hold on to all sorts of nasties and if you ever accidentally leave it sitting against another toy made of the same material they will melt together and go super gross. If you do have toys made of this stuff I recommend not keeping them for more than six months.
Glass: So many people won't try glass toys because they are afraid the toy will shatter and ruin their bits. Relax! The glass used in sex toys is so ultra hard and heat treated there is no way it will shatter! Yes, if you drop it on the concrete or the bathroom tiles it may break, but it still won't shatter. In fact if it was a choice between glass and TPE, you are far safer with the glass. You can also heat it up or cool it down for temperature play and it's perfectly safe to dishwasher clean
Cyber Skin/Flesh: This is usually TPE/TPE and/or PVC and is used to describe the material that's made to look like skin. So the inside of Fleshlights or other male masturbation sleeves. It's very realistic feeling and soft to the touch but, just like TPE etc is very porous and won't last long before it gets a bit rank.
Packaging Claims:
Novelty Purposes Only: There are a few reasons for this but the main one is probably not what you've been told. For many years it was claimed that if a company used these words they could sell any old thing and be protected from law suits, while some may do this it has more to do with import and export laws than anything else. While there definitely need to be some changes regarding laws and regulations on the sale of sex toys, if you were to be sold a product that harmed you in some way, even with this disclaimer you should still have a legal argument.
Not For Medical Use: Similarly to the above, this is to do with tariffs on import and export and not a way for them to cover their arse if you are injured while using it. Obviously on both those last points, you would have to prove it was the toy that damaged you and that you were using it in a reasonable fashion.
Warranty Information: Read it. Seriously. There are some pretty strict guidelines about claiming warranties and if you don't adhere to them you could be throwing money out the door. The biggest ones are how you clean it and what lubricant you use. If you use the wrong sort of lube or haven't used a proper cleaner with it, even if your warranty claim has nothing whatsoever to do with the toy (it could be the charger has broken) they will deny it. Even if the shop you've bought it from offers a warranty it's also always a good idea to register with the company. They will sometimes offer longer warranties than the shop will and it's just good to have back up.
FDA Approved Materials: This does NOT mean your toy has gone through rigorous testing and safety standards. It doesn't mean anything at all except the materials they have used (and possibly not even all the materials in it) have been FDA approved. It's a bit like wearing a pair of Chanel glasses with your trackies and thongs and claiming you've been "dressed by Coco". It's all a big ol' performance to make you feel better about your purchase… But it actually doesn't mean anything.
Antibacterial additions to silicone etc: No. Actually this is a blatant lie and companies that do this are starting to get called out all over the place. If a company claims it has added anything to the silicone to make it safer, or better, or more magical it is a lie. Oh they may well have added whatever it is, but it will mean the silicone is no longer as safe as it was, and it definitely won't be doing the miracle doctor job it claims.
When buying and using toys remember to always use water-based lubricant and a proper toy cleaner and always talk to adult shop staff about any questions and concerns you have. They know their stuff and will always be happy and willing to answer your questions.
Until next time, happy buzzing, my friends.
Copyright © 2020 Eva Sless It is illegal to use any or all of this article without the expressed, written permission from Adult Match Maker and the author. If you wish to use it you must publish the article in its entirety and include the original author, plus links, so that it is clear where the content originated. Failure to do so will result in legal action being taken.