7 Things BBW are Sick of Hearing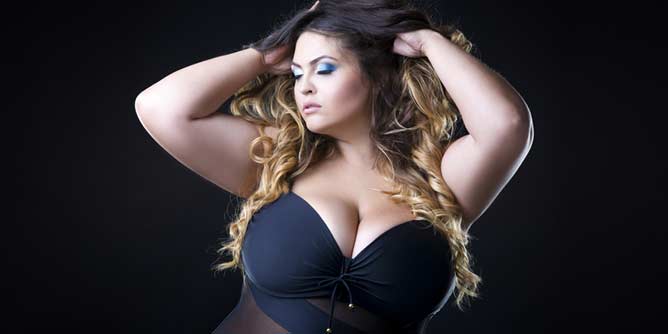 There's not much more that is policed by the general public than women's looks and their bodies. It's everywhere. Over 50% of advertising (even the stuff that has nothing to do with women or the way they look) focuses on a pretty, slim woman sexily selling it for you. Almost every movie you watch or film clip you sing along to reminds us that women are products to be looked at. If a woman gains national attention for something (regardless of if it's positive or negative) you can be damn sure the most common comments from the public will centre on how hot she is and how fuckable or unfuckable she is. If the woman in question is any size larger than a size 12 then you can be sure the majority of comments will focus on her weight. The grossest thing about this (apart from the moral policing of how women should look to make men feel better) is that the fashion industry deems anything a 12 or over as "plus size", but, when you look at it logically, the average size of an Australian woman is a size 12 so basically we can't win, we never even had a chance.
When you're a Big Beautiful Woman (BBW) all of this moral policing, combined with the media's constant bashing over the head with the skinny stick, as well as all the almost daily unwanted and unwarranted comments about your body, do a lot of damage to people's confidence and self esteem and, for the most part, is just rude and invasive and absolutely none of their business.
Here are seven of the most common things BBW's are sick of hearing, so the next time you think of saying one of these comments, regardless of if you think you're being helpful or just because you're not a nice person, don't.
I'm Just Concerned About Your Health
Are you their doctor? Have you taken blood and monitored their heart and vitals? Do you know the exact cause of their weight gain? Do you have any qualifications that warrant your unsolicited advice? And, if you DO have those qualifications, has the person asked you for your advice? If the answer is no, then shut up. Health concerns, huh? Do you realise that making derogatory comments about a person's weight can have severe effects on their mental health? Or do you not care about THAT health and only the one that you think might be an issue because you don't personally like to look at it?
Seriously, the pity and scorn hidden underneath the pseudo-concern of "I'm worried about your health" is palpable and larger people absolutely know what you really mean.
Are You Really Going To Eat That?
As someone who was a much larger person when I was younger I would get this comment all the time. If it was anything other than a piece of cucumber I would have people side-eyeing me and asking me if I really needed it? Lining up to get a burger was always a super conscious thing, I could practically feel the searing stares of the disgusted around me. The most telling thing is, since not being a large person any more, I still eat almost exactly the same sort of food as I always did (I am a sucker for a Whopper Burger omg) and yet the comments now are either non-existent or this weird sort of pride that someone small like me could eat a whole large meal and a sundae in one sitting. It's just rude and relies on the fucked up notion that if you're big it's because you're probably lazy and eat the wrong sort of food.
Have You Considered [insert latest food fad/diet craze here]?
You know what, yes. Yes they probably have. The fact that society drums into every fibre of your being that you are only worthy if you are skinny, and the fact that almost every second ad or internet post is about the latest fad diet or weight-loss craze or super-food, or just a reiteration of the fact that the world values skinny people, means that yes, every fat person has looked at every single one of these commercials and subtle hints and considered it. For whatever reason they have decided not to go on it, or maybe they have and got terrible results, it's just none of your business. Unless you are a dietician and they have asked you specifically for your advice on a particular diet, it is not your place to recommend any kind of diet or weight loss program.
You'd Be So Pretty If You Lost Weight
Whoa. Back the fuck up here. You see, the thing is, most people actually want to be around people who love them for who they are, not what they could "potentially" be (shock horror I know!) and this sort of back-handed compliment is exactly the sort of warning flag that tells people that you are a) not a particularly nice person and b) you would probably find something else to bitch about if it wasn't their weight. Women (and indeed men as well) do not need you to tell them they're not good enough for you. They really don't. They literally do not care what you think they'd look like sans the weight (or with longer/sorter hair, more or less tattoos, with stubble or clean shaven) it's actually (another shock here I know) not about what YOU want or like. It's about how you make them feel and, newsflash, back-handed compliments like this do not make people feel good.
Guys Aren't Attracted To Fat Women
Well, look, I hate to burst your judgemental little bubble there, buddy, but that is unequivocally untrue. Firstly not every BBW is looking for a man, so there's that, and secondly men are part of this amazing species called "humans" which, strange but true, are a very diverse bunch of creatures who happen to have likes and dislikes of varying degrees! I know right, someone double check that fact with Attenborough! But in all seriousness this is such a strange and false concept that's only purpose is to shame and belittle women into conforming to a bunch of unreasonable and unrealistic body standards. It's also very damaging to men and their psyches to be constantly told the type of women he's attracted to is wrong or bad and will somehow make him less of a man. Just stop it. If you're not attracted to larger people, that's okay. You don't have to go shouting it from the rooftops, though. Literally no-one cares.
Dress For The Size You Are Not The Size You Want To Be
No. Get fucked. Stop it. I will tell you now that when you are a fat person it actually doesn't matter what you wear, you're gonna be fat in it. I know right! It's almost like the shape and size of a body is still the same shape and size it is no matter what it's wearing! Yes I do know that certain styles work better for certain shapes but at the end of the day it's absolutely none of your business how one person chooses to cover themselves. If your eyes get offended by seeing a larger person in leggings or showing off flesh then I'm sorry, but that's your problem and you need to suck it up. It is ridiculously unfair and selfish to demand a person wear or not wear a particular thing because you personally don't like how it looks.
Oh, You're Not Fat
Look, okay, we all have a skinny friend who likes to call herself "fat" and we all dutifully rise to the bait to tell her she isn't, but that's mostly because we've been trained by society that fat is a bad thing and is the absolute worst thing to be. It's actually not. You know there are far worse things to be in this world (racist, homophobic, intolerant, violent, a Trump supporter) and being fat is super super far down on that list – in fact it actually isn't ON the list of "bad things to be", but we still drum it into the world so that when a large person makes the observation that they are indeed fat, cloying protestations that they aren't just come off as insulting. I mean, a big person knows they are big. Telling them they aren't isn't only gaslighting them, it's also reiterating the notion that fat = bad. It doesn't. Stop it.
I would also like to add that, although this piece is talking about women, men too get their fair share of body hate and negativity. Yes, there's been a lovely little shift of positivity towards the "dad bod", but overall larger people in general are quite often shunned and shamed and treated like second class citizens. They're accused of being lazy, unhealthy, bad role models, and "glorifying obesity", and that can lead to all sorts of self esteem and anxiety issues.
We really do need to look beyond bodies, regardless of their shape, size, colour, or orientations, and start looking at the people within. If we start doing this, I truly believe it will make for a much nice, and friendlier world.
Copyright © 2020 Eva Sless It is illegal to use any or all of this article without the expressed, written permission from Adult Match Maker and the author. If you wish to use it you must publish the article in its entirety and include the original author, plus links, so that it is clear where the content originated. Failure to do so will result in legal action being taken.