What's it really like to go to a sex party!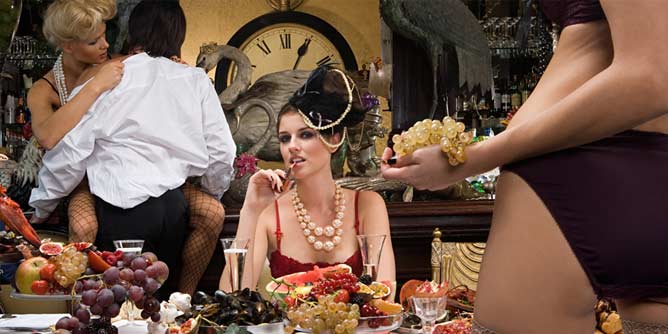 Is it just me or are journalists using the fact they are journalists as an excuse to go and check out a sex party? So many of the articles I have read about sex parties seem to be by someone who would ordinarily "never go to one" but for you, dear reader they put themselves in the lion's den to report back. And then, they only go to one very exclusive party and meet a few people and then leave before it gets too sticky or interesting.
Now, whether they say this because it's a nationally syndicated newspaper and their mum reads it, so they don't want to talk about the two Frenchmen who pleasured them while a sexy tattooed hunk watched them while he got a blowjob from the pretty accountant, I don't know. What I do know is every time I read one I am bored and don't feel like it really would give anyone an idea of what it is like to go to a sex party. It does let you know what it is like to go as a good looking journalist to an expensive, exclusive one (for which they also always claim they never pay because "insert story of knowing some guy who knows some guy") with no intention of actually having sex.
Okay, I get why these articles are necessary. Sex parties are something mysterious and sexy and forbidden and unknown and if you haven't been to one you want to know about them. In reality, they are just like any other party you might attend. If you don't know many people there, it will be intimidating. If you have been to a party at this person's house before and you know most of the guests, then you will feel more comfortable. Honestly, you will find the same types of people you would find at any number of social gatherings. A real mix of people and professions, the only thing they have in common is the desire to have sex. So really, just like any party!
So here is the deal, I went to a few, and yes the first time I was a little like those journalists, I chose an exclusive one and took a very trusted friend to hold my hand. He was happy to accompany me as men were not allowed to attend without a female. Like any nightclub, you don't just want a ton of guys standing around the edge of the dance floor while a couple of hot girls dance with each other on a podium.
I spent the "drinks/getting to know you while clothed" part of the evening feeling incredibly awkward. I had a couple of champagnes to quell the nerves but not so much that I was in any way drunk. Most decent parties are careful about inebriation of any kind. No one wants any confusion about consent, or any regrets the next day. Anyway, after a while people start to go and change out of their clothes, leaving some underwear or lingerie on or getting completely naked and then going downstairs. This was going to be a big step for me, I had some qualms about getting naked or even mostly naked in front of a bunch of strangers. Albeit very nice and polite strangers. In fact, I hadn't been naked in front of the friend I took to hold my hand. I should have thought that one through because by the end of the night I had seen everything thing on him and had seen it being sucked by a very sexy brunette. In the end, I didn't do anything other than observe that first night, and I spent a lot of time upstairs chatting with people in various states of undress as they took a break and rehydrated. I also got to see a lot of people having sex downstairs. Sometimes a lot of them together, so in that sense, I was no better than those nosey journalists. The great thing was that no one minded. Everyone did their best to make me feel welcome, and the only difficulty I had was getting my friend to leave when I wanted to.
The next time I went to the same party, I went alone, and I felt more comfortable, I had texted the hosts, and they had assured me that there would be a couple of guys there who would be my type and that they would look after me. ThePussyKats were always excellent hosts, friendly and clear on the rules to keep things safe and comfortable for everyone. I never did get used to being offered snacks while naked and wrapped around a naked torso but not only was it hospitable, I worked out later it was a welfare check.
Anyway, the second time was a lot more fun, I was still nervous, but I had more of an idea of what went on and knew that I could do as much or as little as I wanted, that there was no pressure and as promised, there were some sexy men there. So I ended up having sex with a couple of guys and even tried some girl on girl action in a group setting, but it wasn't for me, so I went back to the one on one with the hot tattooed hunk. Unfortunately, I was still a little self-conscious. Yes, I know that sounds weird coming from someone who is naked and having sex in a room full of people but I just couldn't completely relax. Luckily the hunk was happy to accompany me home where I could feel less self-conscious but still turned on by my adventure, and I could finally orgasm. I went to parties at this place a few more times and had a fun time. I did prefer their "swingles" parties to the "swingers" nights as I found having someone talk you into having sex with her husband while she stroked my thigh and cheered us on was just a little too surreal for me. But I did like it when as I was chatting casually with one man he pointed proudly at the very vocal woman being fucked on the bed next to us and said that was his wife. Because of the great experiences I had at these well-organised events, I was now open to going to other sex parties and each time was disappointing. When it isn't well organised, and the timing isn't strict, and the rules are not clear it just becomes a disorganised messy orgy. Which might be your thing but it wasn't mine. You would find yourself arriving and being shown into the party to stand around while those that had been there longer were going for it. So no "getting to know you" time and nowhere to put your handbag that felt safe. And some very unattractive bottoms gyrating in front of you as you open your bottle of wine and wonder how long you have to stay until no one will notice you leave.
At one of these apartment parties, another couple arrived at around the same time, and they also felt that this particular sex party wasn't what they were looking for. Eventually, all four of us snuck out and got a hotel room nearby with the intention of having a private sex party. Even that got awkward in the end because it was just the four of us and his wife had never done anything like that before and didn't seem keen on me having sex with her husband. Although she did seem keen on having sex with my incredibly sexy date. So I left him with them and made my way home.
I don't go to sex parties anymore but I deliberately went to one of the good ones when I knew it would be my last and it was me that got to be pleasured by those two incredibly hot Frenchmen at once, and it was magnifique (translation; bloody brilliant!). I even overcame my shyness and relaxed enough to orgasm in public.
Copyright © 2023 Emma Sachsse It is illegal to use any or all of this article without the expressed, written permission from Adult Match Maker and the author. If you wish to use it you must publish the article in its entirety and include the original author, plus links, so that it is clear where the content originated. Failure to do so will result in legal action being taken.
The content posted on this blog is intended for informational purposes only and the opinions or views within each article are not intended to replace professional advice. If you require professional relationship or sexual health advice you should consult with an appropriately trained and qualified specialist.