A Single Gal's Guide to Surviving New Year's Eve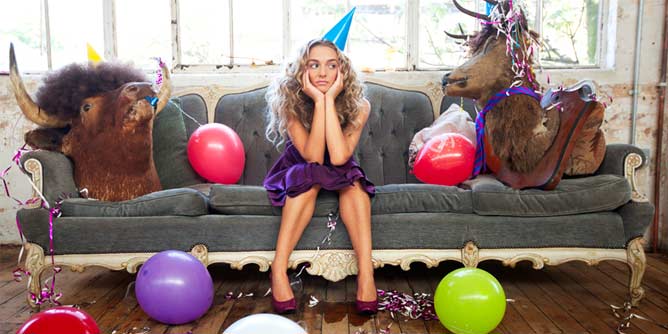 Now that Christmas is over (there's still so much food in the damn fridge), we prepare ourselves for New Year's Eve celebrations. Thankfully, we're not pressured to cook for multiple people; our plans usually consist of figuring out where to celebrate the night and what to wear. Which is fine if you're prepared to deal with thousands of people in one place.
In case you didn't catch the sarcasm there, I HATE crowds. It's not that I get anxious or anything, I just can't stand slow people. I would rather walk barefoot over broken glass than have to deal with slow walkers, or worse - groups of people that stand in fucking thoroughfares.
Anyway, my partying days are well behind me - unless you let me loose on the karaoke machine at the local Irish pub. That my friends, is a wild night. I guess I've just never really been into New Year's Eve celebrations. I've done the trekking into the city to be swarmed by what feels like a million people, I've watched the fireworks whilst trying to dodge crazy Kevin who's high as a fucking kite and can't find his mates, and I've DEFINITELY experienced the New Year's kiss - with Larry, who's absolutely trolleyed and thought he was kissing his wife.
No mate, my name's not Sandra.
And then there's the New Year's resolutions. Those 'commitments' we make to ourselves to be a better person, to get fit, to save for a house. We willingly put ourselves under all that pressure to achieve some shitty goal we set when we were drunk, just to know that at this same time next year, we'll be disappointed that we didn't fulfil it. It sounds depressing, but when you make a resolution to lose ten kilos during the next year and you end up having to buy shares in Darrel Lea because the Rocky Road is WAY too delicious and those ten kilos that you wanted to lose end up coming back with a vengeance…well, it's a little depressing.
Call me a party pooper, but I would prefer to sit at home with a few girlfriends, an antipasto platter, a couple of wines and the comfort of my own bed to stumble to when we've finally rung in the new year. This is my version of a fun time, and has been for quite a while. I've been single for just over two years now, so it shouldn't come as a surprise that I've gotten used to not having a romantic plan for New Year's Eve. Not only am I eccentric as fuck, but I am so awkward when I flirt that it actually makes other people around me feel off. Figure that one out!
So, to save you the stress and heartache that I have experienced over the past years as a single woman at New Year's Eve parties, I've put together a list of how to get through these occasions without losing your fucking mind:
1. Plan Ahead
If you're planning on heading out to a soiree or huge event, plan ahead and say these affirmations with me:
This will be a fun night
I slay in this dress
Don't call Eric the Ex when I'm drunk - that ended in heartache last time. Well, it ended in heartache because he's still a dick. Although I can probably put up with how much of a fuckwit he is if I get the D. Let's be honest.
2. Have alcohol on you AT ALL TIMES
Heard of a flask? Yeh, they're amazing. But you know what's even more amazing?? Bracelet flasks are now a thing! For a measly $20, you can buy what looks like a chunky bracelet that holds around 100ml of your favourite poison, and blends in well with your other bangles from Lovisa. Trendy as. So when you're in an awkward situation where yet another person is asking you why you're single when you look as pretty as you do, you can just unscrew the cap on the bracelet and swig away! They'll have no idea what you're doing and slowly back away from you.
3. Talk back to the voices in your head
There will be times during the New Year's Eve party where you may be the only single person in that room. Good Lord - I fucking hope that doesn't happen to any of you! But if it does, just talk to yourself. Get to know yourself better. No one will bother you when you're having a conversation with someone that no one else can see. Imagine the confusion on everyone's face when you start yelling at Invisible Brenda for forgetting the sparklers. Dumbass.
4. Pretend you just got a phone call
We've all done the 'oh, I'm getting a phone call, I'll be right back' white ninja routine. Don't know what I'm talking about? Okay, in a nutshell you're in an awkward situation and you want to leave - best and quickest way out of there is to pretend that you just got a phone call. But make it sound like you have to go somewhere urgently, or whoever is creeping on will just hang around until you're done.
But for the love of all that is holy - turn your phone on silent just before you take this pretend phone call. I've been caught out before when I've pretended that my phone has rung, yelling frantically down the line that Frank IS allergic to pistachios (remember - make the call dramatic), and the phone ACTUALLY rings. Fuck my life.
5. There will be PDA's EVERYWHERE
Ya'll know what a PDA is right? It's Public Display of Affection. Ugh, even typing it makes me want to vomit. Being single on New Year's Eve is made so much more obvious when everyone has someone to kiss and you don't. The kiss is what everyone waits for. I've legit been in pubs where men and women walk around to find someone to smooch when the clock strikes midnight. I remember being in an Irish pub in Sydney and this guy (let's call him Trevor) came up and macked on with me without warning. WITHOUT WARNING. Which would be fine if he looked like Channing Tatum, but in actual fact he looked like a cross between Noddy the Elf and Tinky Winky. Don't ask.
6. Fake It Til You Make It
If you're not too keen on yelling at Invisible Brenda to keep people away from you, or getting super drunk to pass the time, just wing the whole damn night. Stick with your girlfriends, find some other single souls and buckle up for a night of drunken shenanigans.
And if all else fails and you find yourself sitting alone on the wharf in your $340 dress, crying that you will be #foreveralone, just remember that Invisible Brenda has endured the whole night being single as well. That poor bitch has a 100% chance of never finding anyone, so unscrew the cap of your bracelet flask, take a swig and offer some to her as well. Because you know as well as I do, it's better to drink with a friend than to drink alone.
Copyright © 2020 Patricia Jones It is illegal to use any or all of this article without the expressed, written permission from Adult Match Maker and the author. If you wish to use it you must publish the article in its entirety and include the original author, plus links, so that it is clear where the content originated. Failure to do so will result in legal action being taken.