How to Turn a Hook Up into a Friend with Benefits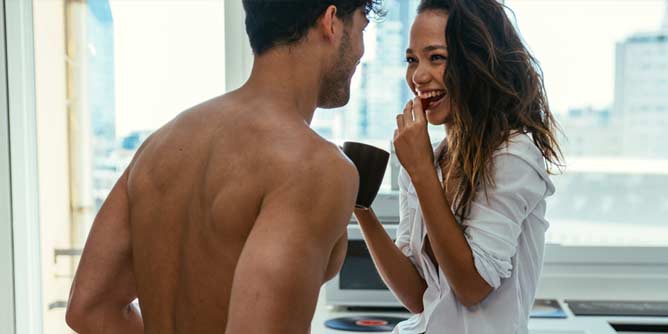 Okay, so you might not want a relationship, for whatever reason you're not looking for that sort of commitment, but a regular hook-up partner can be a great way to get that no-strings-attached fun with someone you know and like and trust, without having to find a new person to hook-up with whenever you're feeling a bit toey, and without all those pesky things that go along with a relationship. Now don't get me wrong, regular hook-ups can come with their own set of issues and problems, but they can also be a really great interim "relationship" without having to actually be in one. I think the main thing to remember is to keep check of your emotions and feelings throughout. Sex and connection can have sneaky ways of tricking us into thinking we have emotions we may not, and can also (confusingly) have the opposite effect and make us think we're just enjoying the sex but are actually starting to fall into emotions that, once we realise it, are too strong to stop.
So, with all that in mind, you've met up with a hook-up and had a really great time, and think you may want to hook-up with them again… Perhaps regularly… How do you make it happen?
Before
Whether it's a relationship or a FWB (friend with benefits) you're looking for the biggest thing to remember is to be honest. Be honest about what you're looking for, and be honest about who you are. Yes, we can all reinvent ourselves a little bit, and it's fun to be a bit mysterious, and absolutely valid to keep certain things private, but try not to change your core values or personality too much. It's impossible to keep up with it, and they'll soon work it out. Being upfront about your intentions is important too because you really need to find someone on the same page as you. Starting a casual arrangement with someone looking for more is a recipe for disaster and broken hearts. Before you meet up keep the communication light and flirty, and try not to reveal all your dirty secrets in one conversation… Leave a little to the mystery of the experience!
During
Basically the advice I'll give you here is the advice I give anyone having sex, regardless of whether its a one-night-stand, or with your partner of twenty years. Be respectful, be kind, and always always ALWAYS make sure you have consent. Consent is the most important part of sexual communication and when you're with a new person, you need to make sure you know their signals and signs, and that only yes means yes. "Um" is not a yes. Hesitation is not a yes. And having to convince or coerce someone into something is taking away their consent. Check in regularly, especially with new partners: "Is this okay?" "Do you like this?" "Would you like me to keep going?" These are thing ALL people of ALL genders need to make sure they do with partners.
Another thing to be aware of (and I hate that I have to say this, I mean come ON!) is to make sure they enjoy themselves too, that it's not just about your orgasm. Sex is about mutual enjoyment, so if you're just looking to get yourself off, go and buy a sex toy.
Probably the most important thing to remember, after consent and safe sex and enjoying yourself, is to be aware you don't overstay your welcome. This doesn't mean jumping out of bed and leaving the minute you've finished, but it does mean being aware that you may not be welcome to stay the night. Always have an exit strategy. If you don't or didn't drive, make sure you have cab money or an Uber account, or know where the closest train station/bus stop is. Let someone know where you are so you have a check-in buddy, and always say thank you to your host when leaving (a note on the bedside table can also be good if they fall asleep and you don't want to wake them to say goodbye).
After
So you've done the deed, had some fun, gone home and thought about it and decided you might like to go there again! Awesome, but this can be where it starts to get a bit tricky… Not impossible, but tricky. The first thing you should do is send a nice follow-up text. Nothing too clingy or full-on, but nice and polite saying thank you, and you had a great time, and would they, perhaps, like to repeat the experience. Be sure you reiterate that you're not looking for a relationship, but that the sex was great and you'd love to try it again.
The most important thing here is to listen and accept whatever answer they give. If they don't reply at all just leave it. Yes, sure, on very very rare occasions the message you sent may not have arrived, but really, that's so rare it's not worth thinking about and sending a "hey, did you get my text" message will more likely come off as clingy and desperate, and that's the last thing you want to be seen as. If they say "no thanks" then accept it and move on. The original arrangement was never meant to be anything else so you need to honour that. In that same vein, if someone you've hooked up with wants to see you again and you don't want to, be kind in your rejection.
The Strings
It's really important to remember that no-strings-attached-sex will always have strings, no matter how much you tell yourself it doesn't. Those strings don't necessarily have to be commitment ones at all, but they're there, and you need to be aware of them. Sex can bring up all sorts of feelings inside us and sometimes it's a good idea to debrief with a friend just to get your head around what you're feeling and what it means. If your hook-up partner does become a regular FWB it's super important to revisit the "commitment" conversation whenever you feel it's pertinent. If you feel your feelings changing it's important to talk about it, and if your FWB suddenly goes cold turkey, or meets someone they want a relationship with that isn't you, you have to accept and understand that, within the context of your arrangement, that could be a possibility.
All in all it's about keeping yourself safe and happy, while not compromising on the safety and happiness of someone else. It's a balancing act that can have all sorts of obstacles thrown in your way to test you, but if done right can be a mutually satisfying arrangement for everyone involved.
Copyright © 2020 Eva Sless It is illegal to use any or all of this article without the expressed, written permission from Adult Match Maker and the author. If you wish to use it you must publish the article in its entirety and include the original author, plus links, so that it is clear where the content originated. Failure to do so will result in legal action being taken.