Why Straight Women Love Lesbian Porn!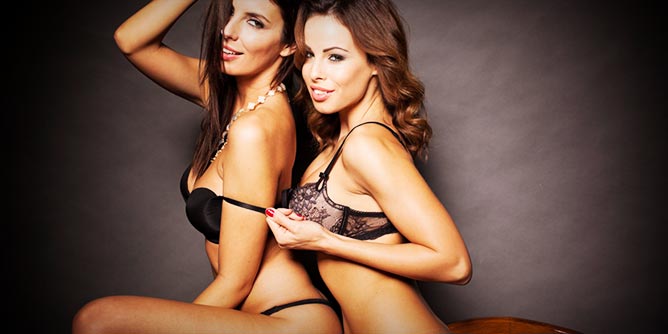 Oh yes, we're onto you ladies, and we're proud as punch. Because it's not the men searching for girl-on-girl fantasies the most, it's the women.
The clever folks over at Pornhub have made this knowledge public by releasing a report on the pornographic preferences of their users by taking a look at their Google analytics and splitting up the searches by gender.
While the data can't look at the statistics in terms of sexual orientation, there are simply far too many women searching for lesbian porn for all of them to be lesbian themselves. Which means - drumroll - that there are many, many straight women out there viewing lesbian porn.
The facts are in!
Of the sexual myriad of categories on the Pornhub site, 'Lesbian' was the number one ranked search term of them all. For males, this was only the sixth most common search team, meaning that women were 132% more likely to head online to look for some hot girl-on-girl action than the guys.
Pornhub's vice president Cory Price revealed that of all the video content on the site, an estimated 7% is lesbian porn - making it the largest category, even above popular topics such as MILF and anal.
A quarter of all Pornhub users are women but what about Aussie women specifically? Aussie girls rate 7th with 28% loving Pornhub, so slightly above the global average.
While Pornhub couldn't break down their figures in terms of sexual orientation we can! Our "Under the Covers" Sex Survey revealed 44% of our female respondents found pornography a turn on while 30% of straight females and 65% of bi females found lesbian sex a turn on.
The women of the Pornhub study continue to smash stereotypes with juicy figures such as the fact that women were 102% more likely to search for hardcore porn than men, 90% more likely for rough sex, 83% more likely for double penetration and 80% gangbangs.
Eating Pussy came in at 901% and Licking Pussy at 792% - maybe the girls are looking for instructional videos! Those figures aren't on the Pornhub chart but they get a mention in this Youtube video about the results.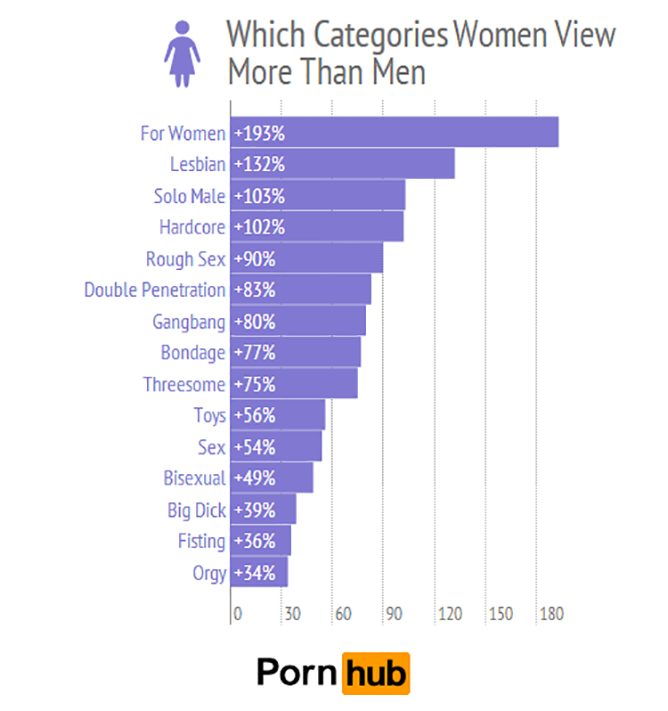 What do straight women love about lesbian porn?
We're all different, and we all watch and enjoy porn in different ways, but when you consider the reasons why women get off on a little lady love, it makes a whole lot of sense.
For example, many people watch porn to indulge in their own fantasies. It doesn't necessarily mean you want to live out those fantasies, but it is one way to enjoy the experience without actually making it happen.
There are of course the women who, even though they're straight, still get turned on by the sight of sexy women. In 2011, an article was published in the Journal of Sex Research that shows that 67% of straight women had questioned their sexuality, and almost half of those admitted doing so because they had been attracted to other women. We were surprised at the results from our own "Under the Covers" Sex Survey where 36% of Aussie women identified as bisexual, way above the figures in the last Census.
Plus, when you think about what lesbian porn consists of - plenty of oral sex with the clit as the centre of attention - it's hardly any wonder women want to see these acts played out on screen.
Our resident Sexpert, Eva Sless, told us, "I love lesbian porn because it focuses on women's pleasure rather than the woman as an object for the man's pleasure. I personally prefer oral sex and clit play to actual penetrative sex so when I visualise and fantasise about sex that's what I like to see. But I prefer my lesbian porn to be far more realistic than lesbian porn aimed at men."
So while there is something of a difference between the genders in terms of who watches more lesbian porn, the answer might not be what you think. And we think that's pretty damn sexy. Are you one of these straight women who loves a bit of girl-on-girl porn?
Copyright © 2020 Adult Match Maker It is illegal to use any or all of this article without the expressed, written permission from Adult Match Maker and the author. If you wish to use it you must publish the article in its entirety and include the original author, plus links, so that it is clear where the content originated. Failure to do so will result in legal action being taken.