A Down Under Guide to Aussie Sex Slang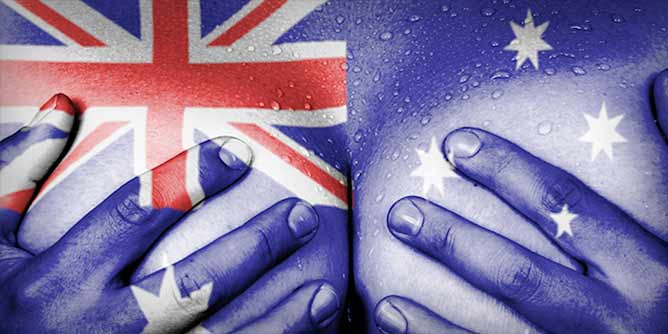 Aussies have been at it again, proving to the world how much fun we are down under.
First, we took out the top spot for marathon-levels of sex endurance, and now, we're teaching others how it's done. Or at least, we're telling them how to speak in our language of love - sex slang.
Buzzfeed sat down with a few brave couples from the States and asked them what they thought some of our most creative words meant.
The video - Americans Guess Aussie Slang - received more than 700,000 views in the first month it was posted. Whether that's Americans doing a little research before their 'vacations' or Australians snickering and testing their own knowledge remains unknown.
For example, did you know that "gobby" is a common term for a blow job? It certainly seemed to be news to the first man in the video to take a guess, saying: "The elf in Harry Potter?"
Not to worry though, the video also features a young couple, "actual Australians", to help viewers at home learn from the pros. There's a particularly special moment if you pause the video after 25 seconds to catch the look of sheer excitement on the guy's face, and vague disapproval on the girl's as she says "I would never use the world gobby."
The video then moves on to "clacker". There's a disturbing and hilarious amount of clapping from team America before our resident Aussie sex slang experts clear it up with "put it in your clacker".
Cue sexy music, as every single one of the American couples correctly guess the true meaning of brown-eye. If you were wondering when is the appropriate time to brown-eye, the Australians explain by saying "it's what you do when you're at a house party".
Doodle is quickly guessed as well, with our favourite Australian couple adding that it's "dick, but for children".
Crack a fat gets some fun guesses - everything from ass smacking to anal sex and masturbation, until finally one of them associates 'fat' with American slang for penis, a 'chubby', and makes the connection.
Here's your cue to pause the video again, right at 2.17 when our Aussie male says "That means boner! Ugh I'm just cracking a fat just thinking about this word, it's great." His words are almost as great as the look on the girl's face.
And some more Aussie terms not included in the video but we'd be remiss not to mention:
Spoof: it's a genre of film but you can also get it in your hair.
Bugger: such a descriptive word but possibly illegal in several countries.
Knackered: if you can't have sex because you're knackered make sure you said it to someone who knows what you really mean.
Nature strip: how often do you mow yours?
Fugly: what you sometimes wake up with after a night wearing beer goggles (applies to both men & women).
Buttsucker: no it's not some kinky anal sex thing, they're smokers!
Give someone heaps: might not translate well when talking to a non-Australian so be careful who you're giving the heaps to.
Tosser: we're all for Clean up Australia but some people are accused of doing it too much.
Get up someone: again just make sure you put this one in context, ie "I'm going to get up my boss this arvo" might need clarification.
Up the duff: you probably need to explain this one.
Without a doubt, we love our slang terms down under! Has using slang got you into trouble?
Copyright © 2020 Adult Match Maker It is illegal to use any or all of this article without the expressed, written permission from Adult Match Maker and the author. If you wish to use it you must publish the article in its entirety and include the original author, plus links, so that it is clear where the content originated. Failure to do so will result in legal action being taken.