The 5 most Sex-Crazed Historical Figures of all time!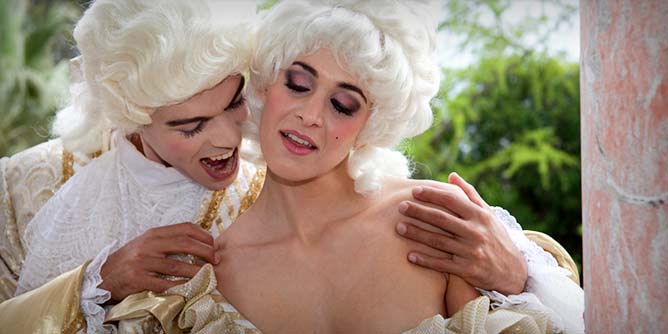 It's 2015 and everything from swinging to sex parties and anal beads to nipple clamps are part of our sexual vocabulary.
You'd be forgiven for thinking that today's generation are responsible for the kinky and outright orgasmic bedroom activities we enjoy so much today.
Not so.
While these generations may have invented a few of the more imaginative sex toys of late, there's certainly plenty of historic evidence of some seriously sexed-up characters that would give many of us a run for our money.
Here's our tribute to five of the most sex-crazed historical figures of all time.
Caligula
First things first - Caligula was a Roman emperor, the third after Augustus and Tiberius.
While Caligula was known first and foremost for his tyrannical time in power, he is also known for his insatiable sex drive. He is said to have had nightly orgies, which supplemented his time with his four wives. Even that was apparently not enough, as he was known to commit some rather indecent acts with his three sisters as well.
Mozart
Mozart is one of the world's most famous composers. He's even the guy behind the tune for 'Twinkle Twinkle Little Star'.
But before you go thinking he was all starshine and rainbows, take a look at the translation for his tune 'Leck mir den Arsch fein recht schön sauber'. We'll give you a hint – the title translates to 'Lick me in the ass nice and clean'.
'Lick my ass nicely,
lick it nice and clean,
nice and clean, lick my ass.
That's a greasy desire,
nicely buttered,
like the licking of roast meat, my daily activity.'
Einstein
We all know this guy. He's the one with the crazy hair and the incredible brain, the one who gave us E=mc2
Einstein was also married twice. While the first didn't go so well, the second sounded much more frisky. He was already sleeping with second wife Elsa Lowenthal before they got married, despite the fact that they were first cousins. Once married, he started a new affair with his mistress Bette Neumann, and reportedly had no fewer than six girlfriends as well.
King Edward VII
What would this list be without a touch of royalty? Touch, being the key word here, as Queen Elizabeth II's great grandfather was nicknamed 'Edward the Caresser'.
If rumours are to be believed, he averaged three new women every week. Conservative estimates suggest that by the time he was finally worn out, he had slept with more than 7,500 women across a span of 50 years. Bravo, Edward.
When he was coronated at Westminster Abbey, they even set aside an area for his women. They called it 'the king's loose box' (unofficially, of course).
Marquis de Sade
Marquis de Sade was a French aristocrat and writer born into a time when showing so much as a scrap of bare skin was considered scandalous.
It's pretty amazing then, that his name holds the clue for sadism, and his graphic novels were essentially the first form of torture porn. And although many would associate him with sadomasochism the term masochist didn't surface until the mid 1800s when the Austrian writer Leopold Ritter von Sacher-Masoch wrote Venus in Furs which was largely inspired by him undertaking a contract to be his mistress's slave. Check it out on Netflix, it gets off to a slow start but it's well worth watching.
In real life, Marquis De Sade kept a prostitute as a torture victim and sex slave (she eventually escaped), had an affair with his wife's sister, kept his castle full of employees of both genders for his sexual enjoyment, and eventually was imprisoned for more than three decades for his kinky escapades. So while we might not recommend following in his footsteps, we do have to give a nod to his help ushering in S&M culture.
Copyright © 2020 Adult Match Maker It is illegal to use any or all of this article without the expressed, written permission from Adult Match Maker and the author. If you wish to use it you must publish the article in its entirety and include the original author, plus links, so that it is clear where the content originated. Failure to do so will result in legal action being taken.