5 Mistakes Guys Make in Bed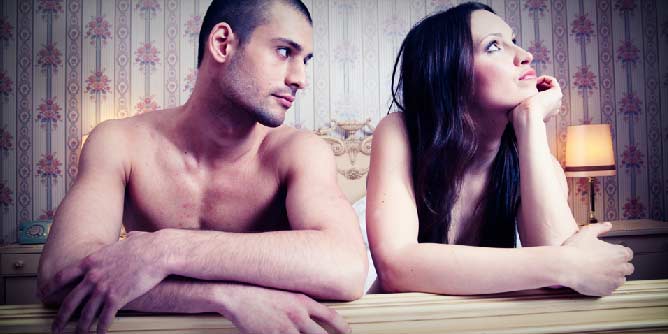 Much as we'd all love to believe we live up to a godly sex standard, there's always room for improvement. However, there are certain things about heterosexual sex in particular that encourage widespread, systemic mistakes - you know, simply because we're not dealing with the same parts and body chemistry.
But to hell with all that Mars and Venus crap. We're all much more alike than we are different, and despite what conventional wisdom says, there are some men out there who seem to know exactly what women want, at least in the bedroom.
If you're not entirely there yet, don't let yourself get too limp over it. Here are the five biggest mistakes guys make in bed, with some pointers on how to avoid them:
1. The"Point A to Point B" manner
If you're guilty of this one, we don't blame you at all. Isn't the "male brain" all about linear logic?
Unfortunately, if you've been going through the same exact motions your entire adult life - make out, fondle the boobs, exchange oral, fuck, lather, rinse, repeat - it's time to consider radically upending your routine.
Wouldn't it feel kind of novel and exciting if a woman ripped off your pants and immediately went down on her knees without so much as a warmup kiss?
That's not to say you need to take the warmth and tenderness out of the equation, but instead, allow your intuition to guide your way through the process, whether that entails a back-massage-turned-salad-tossing or a romp that ends in a long makeout session.
2. Not paying attention to the buildup
For the love of all things holy, slow down! Unless you're engaging in a hot quickie, sex shouldn't feel like you're high-tailing it to your own orgasm.
Perhaps you have a tendency to ejaculate prematurely - if so it's not your fault if things end a little quicker than expected. But if that's the case - and even if you've got the self-control of a monk - no one will fault you for taking a break from thrusting to deliver a little extra tongue.
Plus, buildup is about so much more than speed. Setting the right tone can happen over the course of a workday, thanks to modern technology. Teasing and tempting your woman, whether you do that through your phone or when you first hop into bed, can make the whole experience better.
3. Relying too much on Professor Porn
Once again, we simply can't blame you for taking your sexual cues from the world of internet porn. You'd be hard pressed to find a guy who doesn't spend some time every week on their favourite XXX sites.
However, since you're here, you're obviously ready to re-examine some of those early learned behaviours, so it probably helps to understand that most porn tells you very little about what actually feels good to a woman. Those crazy positions and constant jackhammering may look fun on camera, but in the real world, they're usually just uncomfortable.
Also, that the porn you watch has a professional team of editors at the ready once shooting is complete. In your own bedroom, however, those funny "O faces" and awkward noises will happen, so do whatever you can to let your partner know it doesn't matter.
4. Leaving us high and dry
Getting us wet enough is only part of the equation - we have to stay that way for things to keep feeling awesome. Assuming you're waiting until we're plenty moist to begin with, you should bear in mind that we sometimes require some extra wetness, especially during marathon sessions. If you're using a condom, this problem is even more likely to occur.
That's not all we mean about "leaving us high and dry," however. Many men go into hibernation mode the minute they come and if you've fully satisfied your partner, she may be just fine with a bit of a post-coital nap. However, if you're the type to roll over and start snoring as soon as you're finished, you shouldn't be surprised when you don't get invited back.
Of all the things that frustrate women about sex, the worst might be the overwhelming tyranny of "sex stops where the boner does".
5. Missing the sweet spot
This goes hand in hand with leaning too much on the tutelage of porn, but you should let go of the notion that your partner's going to come just because you're ramming her extra hard.
If anything, jackhammer sex - though perfectly awesome when the mood's right - can hit your lady in all the wrong spots. More often than not, women need clitoral stimulation to reach orgasm, which requires a complete session of oral, pubic friction, or the right kind of manual stimulation during sex.
Copyright © 2020 Adult Match Maker It is illegal to use any or all of this article without the expressed, written permission from Adult Match Maker and the author. If you wish to use it you must publish the article in its entirety and include the original author, plus links, so that it is clear where the content originated. Failure to do so will result in legal action being taken.