5 Mistakes Women Make in Bed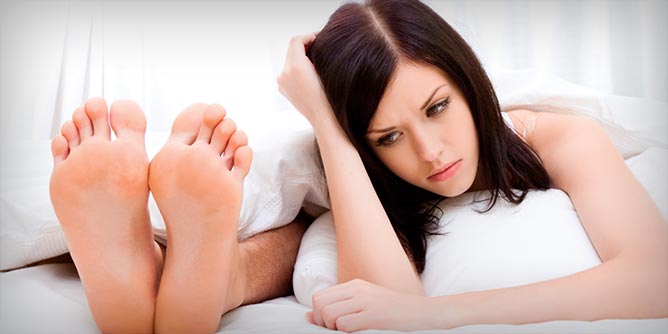 Last month we wrote about the 5 mistakes guys make in bed. Amongst the suggestions, plenty of you asked about the mistakes women make, too.
So here's what you've all been waiting for - the five things the ladies should brush up on to turn good sex into mind-blowing sex.
1. Confidence
A woman with no confidence can be particularly frustrating for a guy who just wants to ravish your body and see your reaction.
So when a woman insists on turning the lights off, you can imagine how torn he is. On one hand, he wants you to feel comfortable, on the other, keeping the lights on and seeing your hot naked body is incredibly arousing and takes the experience to a whole new level.
It's not the cellulite, stretch marks or jiggly bits he's looking at ladies (well, some of the jiggly bits), it's the look in your eye, the bounce of your tits and the glistening of your vagina as you get wet. Hot, right?
Wear nothing but your confidence to the bedroom and your man will thank you for it.
2. Share the work
Even though a guy is happy to initiate sex, don't let him be the only one to get things started.
Letting your man know you want him so badly you can't keep your hands off him is a turn on in itself, and switching up the norm is a great way to keep your sex life from becoming predictable.
Also give him a break from setting the pace and changing positions by taking control every now and then so he can simply enjoy the ride.
3. No faking it
Ever. Seriously.
A guy won't thank you for faking an orgasm, and you won't thank yourself several weeks later when you're still not achieving the real thing because he doesn't know how to get you there.
Take the time to help him help you, and he can have the satisfaction of knowing it's real.
While we're on the topic, you can stop with the porn-star screaming as well. It's all well and good when you're really in the throes, but if you're moaning like you're mid-orgasm when you're still halfed dressed, he knows it's not real.
4. Never bring up your Ex
We doubt you'd start talking about your ex's favourite hobbies, but it's not uncommon for a girl to talk about how her ex used to do X to her, or how she hated it when he did Y.
Your man does not want to know about someone who has been there before him.
Skip his name, pretend he doesn't exist, and give that same great feedback to your current partner without bringing some other guy into the mix. Simply say 'I love it when you do X', or, 'Doing Y isn't my favourite'.
5. Be enthusiastic
We can't stress this enough - if you don't appear to be enjoying yourself, he's going to have a hard time enjoying himself.
It's easy enough to show your enjoyment during parts of sex you love, so this tends to come up more often during times you might not be so into. Let's be honest, for a lot of us that means blowjobs.
His penis has been his favourite toy from childhood, and he wants you to enjoy it too. Think of it as like when you introduce a friend to your favourite movie - you love it so much you're certain they will too, and you won't enjoy the moment nearly as much if they don't like the film.
So moan, smile, be energetic, and show him how much you love his cock.
Copyright © 2020 Adult Match Maker It is illegal to use any or all of this article without the expressed, written permission from Adult Match Maker and the author. If you wish to use it you must publish the article in its entirety and include the original author, plus links, so that it is clear where the content originated. Failure to do so will result in legal action being taken.