Guys! Read this before you buy your next pack of condoms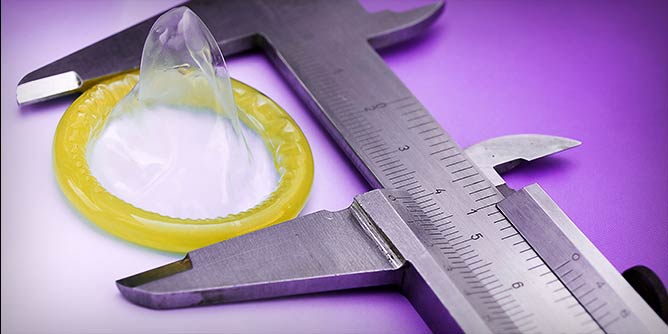 Guys who are new to sex may think condoms are a one-size-fits-all operation. That's a truism that's popped up recently after Swedish singer Zara Larsson famously posted a photo on Instagram of a condom she'd managed to stretch over her entire leg. "Take a seat," she said, suggesting that men who claimed they were "too big for safe sex" were sadly mistaken.
She's right in a certain sense - condom manufacturers have been stepping up to the plate for some time now, and there's a golden glove out there for every lad - from the "size doesn't matter" guys to the biggest of big. But lots of men might feel like they're bursting at the seams when they wear standard condoms, and that's not something they're necessarily imagining.
Here's what's important to keep in mind: Just because standard condoms are capable of stretching to impressive proportions doesn't mean they'll be comfortable no matter your size. The fit (and type) of condom you wear can make a measurable difference in your pleasure and your safety.
Sizing it right
If you're like most guys, you've probably already worked out exactly how many centimetres your cock is, but it's never a bad idea to make sure you've got the proper measurements on-hand.
Here's how to obtain an accurate reading:
Make sure you're fully erect.
Stretch a measuring tape from the base of your penis - that's where it meets the pubic bone - to the tip. Make sure you're not measuring from the underside or holding any slack in the measuring tape. Voila - that's your length.
For the girth, wrap the tape around the base of your penis (about 1 cm away from the body).
According to Condom-Sizes.org it's the girth that will be the determining factor
Penises that are less than 119mm in girth are best-suited in a snug condom;

those in the range of 119mm-130mm are in the standard-sized camp;

and those 130mm or girthier should probably try a large size.
However, length is definitely a major consideration too, since a too-long condom can bunch at the base and a too-short condom can leave skin exposed. You should also remember to add a little extra room, length-wise, for ejaculate.
That said, you might prefer to ballpark it rather than do too much number-crunching. What has your experience told you? If you generally don't have a problem with generic condoms your pick up at the store, odds are, you're good to go with standards. If condoms typically feel baggy to you or have a habit of coming off, you'll probably be happier in a smaller size. If you're the king of broken rubbers - or losing circulation in the midst of sex - it's probably time to experiment with some plus-sized condoms.
Exploring your options
Fit is more than just getting the measurements right - the educated customer also knows which of the many options are best-suited to his style.
Here's a few common market varieties and what they mean for your bedroom activities:
Thin/Ultra-Thin: If you yearn to approximate the sensation of going bareback, thin condoms are your best bet.
Ribbed: These condoms come with small ridges and bumps that may heighten the sensations for your partner. Worth a try, but before you commit to a box of 24, try a smaller back to make sure you like them.
Flavours: If you wear condoms during oral sex, consider the relative superiority of banana over latex in your partner's mouth.
Climax Control: Some condoms come with desensitizing lubes on the inside to help one-minute men in their time of need.
Latex-free: If you, or your partner, are allergic to latex there are latex-free options on the market. Typically these are made out of a synthetic rubber, such as polyisoprene or polyurethane. Polyurethane condoms are stronger than their latex counterparts and because of the strength of the material they can be made thinner which means they provide more sensation and greater pleasure. They also don't have that latex smell and have less impact on the environment.
Vegan: This may come as a surprise, but not all condoms are vegan friendly. Some condoms are made with a small amount of what is known as casein, a milk by product. For those vegans out there looking to live a completely animal-by-product-free life, there are vegan condoms out there, often available at health food stores or online.
Lambskin: For the latex-averse, these condoms are not only more natural, but they're also more intimate-feeling. They don't protect against STIs, however - just pregnancy.
Female Condom: This might sound weird to try, but some men (and women) swear by its sensation-increasing properties. For men who can't seem to feel anything when they're wearing male condoms, a female condom can more closely approximate the feeling of going in with nothing on - plus it offers more protection against things like herpes and HPV, since it covers the entire vulva.
Copyright © 2020 Adult Match Maker It is illegal to use any or all of this article without the expressed, written permission from Adult Match Maker and the author. If you wish to use it you must publish the article in its entirety and include the original author, plus links, so that it is clear where the content originated. Failure to do so will result in legal action being taken.