The What Why How of Squirting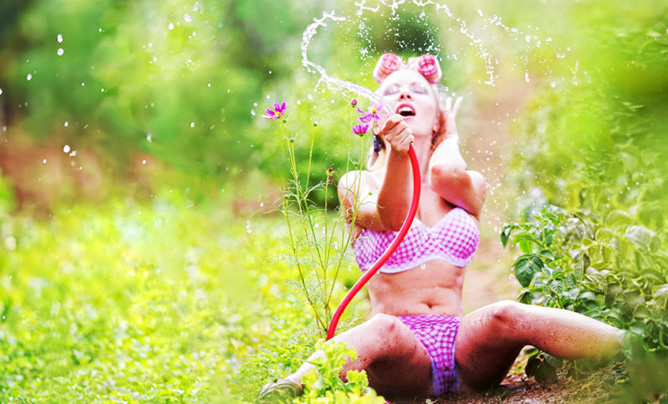 It's really only in the past decade or so, since the invent of social media and the huge influence it's had on the world's population, that certain things have become part of our everyday lives and consciousness. Like, for example, the fanatical obsession humans have with cats, or the unquestionable healing powers of bacon (you know it's true). And one thing that really seems to have taken the world by storm, or at least the sex world where I reside, is the awakening knowledge of one of the most awesome things a woman can do when it comes to sex and orgasms: Squirting.
Just like the worship of cats (Ancient Egypt anyone?) squirting is by no means a "new" thing. It is also not a "mythical" thing. It is very real, and very cool, and is actually possible for almost every single woman on the planet to achieve. Really it is. It takes a bit of patience and a bit of work but the rewards are most definitely worth it.
What Is Squirting?
Squirting is the name given to female ejaculation and I don't just mean the wetness and lubrication that comes from being turned on and orgasming. I mean actual ejaculation. Like a gush or squirt of liquid (quite a lot of liquid sometimes) that can occur when a woman has a g-spot orgasm. The liquid itself is completely different to any other sort of liquid a female produces and comes from a place not many of us women realise we have, the Skene's gland. It is located within the walls of the urethra and the liquid itself comes out of the urethra (where wee comes from) but it is absolutely NOT urine. It's clear and a completely different consistency. It's made up of glucose and prostatic acid which is pretty much the same sort of stuff that semen is made up of (without the sperm of course).
What a lot of people don't realise is that the g-spot (which is located on the front wall of the vagina about one or two inches up from the entrance), is made of different stuff than the rest of the vaginal wall. It's actually made of erectile tissue which, when manipulated, fills with blood and can swell up to three times its normal size. It has a sort of ridged, spongey feel and, when aroused and pushed, can make you feel a bit like you want to wee. It is this feeling that often stops women from experimenting further because for the great majority of people, sexy time and urination are not connected.
Let me assure you that you will not wee. You won't. The reason it feels like that is because pressure is being put on the urethra which is the same sort of pressure your bladder puts on it when it is full.
So How Do I Achieve A Squirting Orgasm?
Pressure. Lots of pressure. Unlike the clitoris, the g-spot does not respond to vibration, it responds to pressure so a traditional vibrator probably won't do much at all in the process. A lot of sex toys these days have the curled head on them which are designed to reach and push on the g-spot and, if you're going to use a toy to get there, this is the sort you want. If you are using your fingers (or a partner is) then the best way to describe how to find it is this: curl two fingers towards the front wall of the vagina, kind of like you're trying to reach just below the belly-button, find the spongey spot that is the g-spot, and push/move your fingers in a kind of hard and fast "come hither" motion. When I say hard and fast I mean it. Especially in the beginning when you're just learning how and where.
Because most sex is 50% mental and 50% physical you really do need to be in the right frame of mind. You need to relax your whole pelvic floor which can be really tricky to do in the wake of that whole feeling-like-you're-going-to-wee thing, but it is really necessary. One good way to mentally prepare yourself is to make sure your bladder is completely empty before you try. This way you can tell your brain you KNOW you aren't going to wee because there is nothing in there TO wee. When you do achieve the squirt it is these pelvic floor muscles that will contract and push and ultimately squirt the liquid.
So Why Do I Want To Have A Squirting Orgasm?
Because it's amazing. It is so strong and good and deliciously satisfying that you almost lose control. The noises, the spasms and the ultimate release of endorphins and orgasmic blissful sensations is like no other orgasm you will have ever felt in your life. It is truly primal and truly fantastic.
Be sure to put down plenty of towels before you start trying because there will be a lot (LOT) of liquid and, because of this fact, make sure you have a big drink of water near you for afterwards because it can really dehydrate you.
So relax, curl your fingers, push push push and happy squirting, my friends!
Copyright © 2020 Eva Sless It is illegal to use any or all of this article without the expressed, written permission from Adult Match Maker and the author. If you wish to use it you must publish the article in its entirety and include the original author, plus links, so that it is clear where the content originated. Failure to do so will result in legal action being taken.