Am I a Slut because I Swing?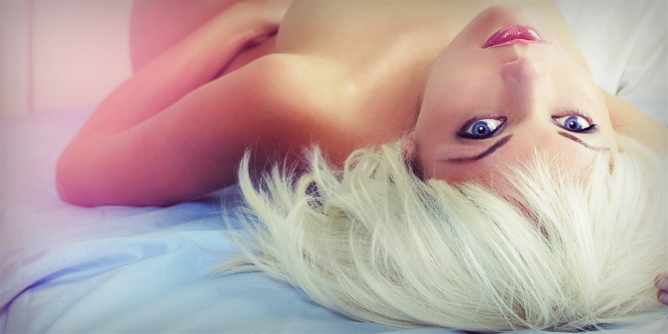 Not necessarily, but then is being a slut really a bad thing?
I've been a swinger a while and I've participated in threesomes, foursomes, orgies and a gang bang and I have to admit, the "am I a slut?" question crossed my mind at various times throughout our journey. When we started having threesomes and foursomes it was there, but even more so when I was in the centre of a gang bang with 6 men. It was at that time that I really had to work it out…
Why was I struggling with it? What did it mean to me? And was it valid? I knew I wasn't the only person who struggled with this so I wrote a few blog posts and it was the responses I received that really helped me to work through it.
Firstly I had to work out what my definition of "slut" was and why it bugged me to be labelled as one.
When I was growing up girls were programmed to behave like a "lady", and that came with a list of things that ladies do and don't do. Self respect and morals were a big part of that and according to what I was taught, no self-respecting woman would let herself be spit-roasted by two men at once over the kitchen bench while someone else took a photo… or would she?
Part of my programmed definition of a slut was they weren't selective about their choice of partner/s; they would have sex with anyone and everyone. It's easy to look at other people and decide that they aren't being selective; we think they have set the bar too low but even if we're right, should we be judging them? And do we really know what standards they have?
I don't know of any swinger who isn't selective to some degree. We certainly go through a process of working out who we want as playmates and it's not just anyone. However, someone looking from the outside could judge that we're not based on their own standards. And that is the difference…
Everyone has different standards but that doesn't mean anyone is more, or less, of a slut.
I was also programmed to believe that a slut would wear clothing that was revealing and sexy, and they would enjoy dressing in leather or sexy costumes. A slut would intentionally turn people on whenever they could and by any means necessary. They would also have sex anywhere, anytime; in public, in private, it didn't matter. A slut loves sex and would have sex in any way; any position, happy to be spit-roasted, tied up, gang-banged, give head, have anal sex, be DP'd (Double Penetration) and bonus if it was all in one session...
To some people that all sounds like fun, and so it should! Many of those things I hadn't tried before we became swingers, and when we started to try them my programmed view of what it meant to be a slut would cross my mind. It used to prevent me from truly letting go and enjoying the moment. I even put off trying a gang-bang for a long time for that reason.
The thing is that the majority of people in the swinging scene do enjoy almost everything I mentioned which realistically, makes us all sluts. I have done a lot of those things and I have honestly had an awesome time doing them. Is that something I should be ashamed of?
So does being a slut have to be a bad thing? Are sluts not just experiencing all that sex and life have to offer? Some people love chocolate, and they'll eat any sort of chocolate they come across. Does that make them a chocolate slut? Hell yes, but is that really a bad thing?
A person I was lucky to meet sent me this in a message:
"I prefer how Easton & Liszt define slut in their book The Ethical Slut. They are attempting to reclaim the name in much the same way that homosexuals reclaimed gay. To them, a slut is "a person of any gender who has the courage to lead life according to the radical proposition that sex is nice and pleasure is good for you. A slut may choose to have sex with herself only or with the Fifth Fleet... A slut shares his sexuality the way a philanthropist shares her money - because they have a lot of it to share, because it makes them happy to share it, because sharing makes the world a better place."
Swingers are generally couples who willingly allow other people to share in their sex life. They enjoy having sex; they are exploring what sex has to offer and continue to expand on their sexual experiences, as a couple, because it's fun to do. They aren't hurting anyone, it's all consensual and it's just them having the courage to lead their lives according to them and not how other people think they should…
It's the 21st century, times have changed and we're in an era where sex is out in the open and where women can find multiple sexual partners on sex dating sites. Previous to this, sex wasn't talked about and anyone seen to be enjoying sex, especially with multiple partners, was deemed a slut. If we go with the Easton & Liszt definition then it's true, they were a slut, but that's not a bad thing…
At the end of the day, if you're not hurting anyone and you enjoy:
Having sex
Sex with more than one person at a time
Multiple positions and multi-person configurations
Discovering what else you enjoy about sex
Then you are a slut and you should celebrate your slutiness!
Let it be known from this day forth that it's good to be a slut because a slut is someone who is "adventurous" and sexually free; they are choosing to explore that side of who they are and allowing themselves to truly experience everything sex has to offer, and with people who are willing to help them experience it.
Copyright © 2023 Chantelle Austin It is illegal to use any or all of this article without the expressed, written permission from Adult Match Maker and the author. If you wish to use it you must publish the article in its entirety and include the original author, plus links, so that it is clear where the content originated. Failure to do so will result in legal action being taken.
The content posted on this blog is intended for informational purposes only and the opinions or views within each article are not intended to replace professional advice. If you require professional relationship or sexual health advice you should consult with an appropriately trained and qualified specialist.