Dear Amie, "Am I expecting too much?"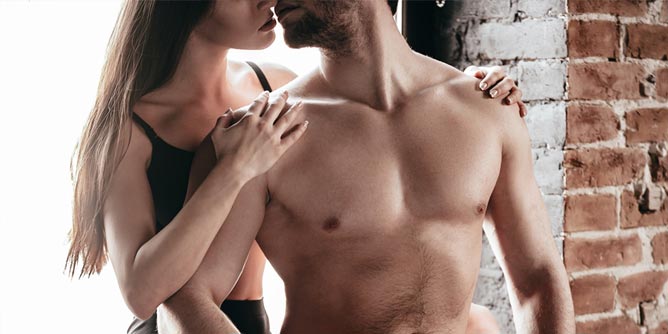 Dear Amie: I've found a hot guy here on Adult Match Maker. I reckon I'm average and I'm feeling really insecure about being naked around him. He barely messages me, but when he does, it's to tell me he's looking for others to join us. I want to stay. I want to run. Am I expecting too much? Am I holding on because I'm afraid I can't get as good? I've never been with someone as hot as him… EVER! What to do?
Ooh that's a tricky one. There's two prongs to this dilemma and both are going to do your head in over time if you don't sort them out asap!
Firstly, what to do about Hot Dude? Well, you've got to figure out what exactly it is. To me it sounds like your knuckles are white from gripping on for dear life to the potential of Hot Dude. Potential, being the key word. From what you have said, it sounds like Hot Dude is in this for the no strings attached group sex action. You've said he barely messages you, and when he does, it's to talk about bringing others into the equation. Do you know how he feels about you? Do you know if this is just NSA fun for him? Have you talked about dating or starting a relationship together? He's living the uncomplicated group sex dream while you're panicking and stressing about what could happen. If you've got emotions invested in Hot Dude and he's just in it for the hook up, you're setting yourself up for an emotional trainwreck.
Let me ask you this. Do you have genuine potentially romantic feelings for him or are you hooked because you can't believe your luck that Hot Dude is into you, and you're worried no other incarnations of Hot Dude will ever be interested in you?
This is where the second prong comes in… You've got to work on your self confidence or it's going to affect all of your future relationships. Low self-esteem is a relationship (and boner) killer. Feeling like you're not good enough for the person you're with breeds insecurity and jealousy. If you've suffered low self-esteem your whole life, and through all your relationships, you probably think some of your behaviours and feelings are normal. They're not, and you can fix them.
I'd say wipe Hot Dude off your radar and do some work on learning to accept yourself, feel good about yourself and quit comparing yourself to others. Hot Dude is lucky you're dedicating so much of your energy to him!
Also, life is short, quit worrying about how your body physically looks and enjoy it. None of us are perfect. Even the Hot Guys have insecurities. Plus, there's hundreds of other Hot Guys on Adult Match Maker looking to meet and message a Hot Woman like you. Trust me!
Copyright © 2020 Amie Wee It is illegal to use any or all of this article without the expressed, written permission from Adult Match Maker and the author. If you wish to use it you must publish the article in its entirety and include the original author, plus links, so that it is clear where the content originated. Failure to do so will result in legal action being taken.