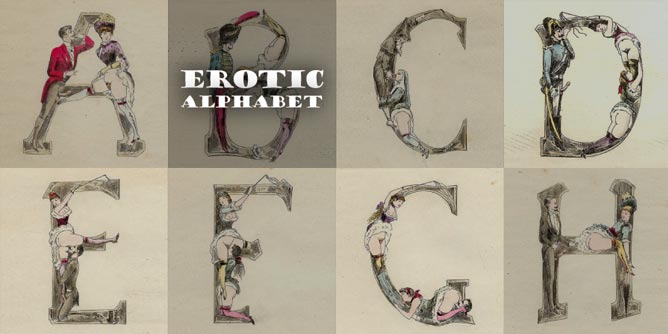 ‪The concept of an erotic alphabet isn't new. The 1970s saw designs from both Russian born Erte and American artist Federico Castellon whilst in 1946 Hungarian Alex Szekely, a cabaret charicaturist, penned a very explicit A-Z. Possibly the most well known and deliciously titillating however still has mysterious origins but is generally attributed to French artist and printmaker Joseph Apoux and first surfaced around 1900 and we've used some of the images in the banner.
But, although we've called this an erotic alphabet it's more of an ode to sex that our multi-talented sexpert Eva Sless has written. Learning your A-Z has never been so much fun!

A's for Arousal, the place where it starts.
With blood-flow and tingles and flutters of heart.
B is for Booty Call, a last-minute thrill.
My house-mates aren't home, wanna Netflix and chill?
C's for Consent, always wait for a yes.
Make sure that you have it, don't hazard a guess
D is for Dick-Pics, please put them away
If she wants to see it, I promise she'll say.
E's for Erotica, go have a look
It's basically porn, but it's all in a book
F is for Fucking, just primal and raw
It's basically what all our bodies are for
G's for the G-spot that's hidden away
But worth it to find it and change how you play
H is for Head-Job, all slurpy and fun
But please be considerate and say when you come
I's for the intimacy sex can bring
A deeper connection, much more than a fling
J is for Juices that give her her taste
Each drop is like nectar, you won't want to waste
K's for the Kinksters, the pleasure and pain
The Doms and the subs, with their whips and their chains
L is for lubricant, slippery and wet
A vital sex-essory, please don't forget!
M's for Menage-A-Trois, three in the bed
A tangle of bodies, and libidos well fed
N is for Nympho, the insatiable one
Who's never quite satisfied, but always fun
O's for our Orgasms, moaning and loud
Show how much you like it, make your lover proud
P is for Pegging, the ultimate way
To get to his prostate (IT WON'T MAKE YOU GAY!)
Q's for a Quickie, got five mins to spare?
A rushed but a sexy erotic affair
R is for Rubbers, the easiest way
To practice safe sex every day after day
S is for every Sexuality
Whatever your letter, be it L G B or T
T is to Titillate, Tempt and to Tease
Do you want more? Well you'll have to say "please".
U is for Unicorn, single and free
Who's up for a good time with a couple or three.
V's for Vibrators, a girl's special friend
Lovers come and go, but it's there til the end
W is for wanking, something all of us do
And why not, it's fun, and it's good for you too!
X for X-Rated, the smut we consume
when hidden away in our darkened bedroom
Y's for the Yeses, the Yippees and Yum
The deliciousness of hearing and feeling them come
Z for the snuggles, the comfort, the flow
The satisfied snooze in the sweet afterglow
Copyright © 2020 Eva Sless It is illegal to use any or all of this article without the expressed, written permission from Adult Match Maker and the author. If you wish to use it you must publish the article in its entirety and include the original author, plus links, so that it is clear where the content originated. Failure to do so will result in legal action being taken.