TED Talks about Sex & Sexuality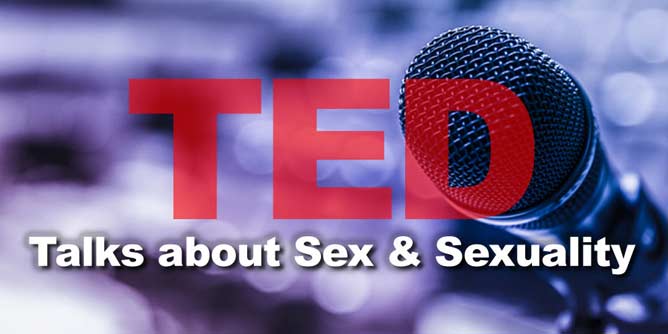 TED stands for Technology, Entertainment, and Design. TEDx events are designed to reach a wide audience where speakers from all over the world, and from all different walk of life and expertise, can address audiences with insightful, interesting, and sometime radical ideas about life and the way we live, including sex and sexuality. Our resident Sexpert Eva Sless has chosen some of the best short TED sex talks for you that will not only inform and educate but also entertain.
Peggy Orenstein: What Young Women Believe About Their Own Sexual Pleasure
Peggy Orenstien is a New York Times best selling author who specialises in sex education for young women. In this fascinating talk she looks at the way we teach young women about sex and consent, and what we need to be teaching them about what happens "after the yes". In her research she spoke to many young women between the ages of 15-17 and found that while so many are beginning to get the lessons about individual power and strength and independence, they still aren't receiving that same message in relation to their sexuality and sexual choices, which of course then leads to unsatisfying, uncomfortable and often unwanted sexual activities. She examines the difference between young men and young women and their sexual expectations, and also the dynamics that then occur due to these imbalances. In her gentle and soft-spoken way, Peggy makes it clear that the young women in our lives are getting the short end of the stick when it comes to healthy and holistic conversations and education around sex, but also acknowledges how far we've come and shines an optimistic light on where we can go from here.
Nina Dølvik Brochmann & Ellen Støkken Dahl: The Virginity Fraud
These two Norwegian doctors are the co-authors of the sex education book "The Wonder Down Under" which is a book that looks at vaginas and vulvas and all the bits down there in an informative, entertaining, and positive way. This talk, The Virginity Fraud, is pretty much exactly what it sounds like; that the idea or concepts of virginity, focussing mostly on the "breaking of the hymen" or the "presence of blood", are not only tools of oppression to control and place women into two halves – the virgin or the whore – but are also factually, medically, and physically wrong. In a frank and light-hearted way these two incredible women explain the anatomy of the hymen and the history of the virginity myth and break down all the misinformation surrounding everything about them. It's educational for both men and women of all ages.
Christopher Ryan: Are We Designed To Be Sexual Omnivores?
Christopher Ryan is the co-author of the book "Sex at Dawn" which, with other author Cacilda Jetha, examines the evolutionary history of sex and human sexuality and what it means in the modern world of sex and relationships. In this incredibly educational talk Christopher looks at anthropology, evolution, and even things like DNA to examine what human sexuality is and what it has evolved to become. From examining different cultural and historical attitudes to sex, monogamy, relationships, and procreation, as well as the sex lives of our closest relatives in nature (the bonobo primates) he breaks down how societal structures, religion, and the control of women and their bodies, have affected us as sexual beings and what that actually means in terms of procreation, pleasure, and human interactions and relationships.
Al Vernacchio: Sex Needs A New Metaphor
Al Vernacchio is a human sexuality educator whose main focus is on education, language and how the ways that we talk and teach about sex impacts on younger minds. This little talk is a brilliantly funny and incredibly insightful look at the language we use to talk about sex, drawing on the tired old "baseball" metaphor (you know, scoring bases, getting the home run etc) which focuses on things like competitive language and the idea of opposing teams and winners and losers. He examines the structured play of baseball and the rigidity of its rules and decides there needs to be a better metaphor for something as complex as sex… And there is! Pizza! Using the concepts of choice, enjoyment, and satisfaction, and all the things that go with ordering a pizza to share with a friend (whether it's a new friend or someone you've eaten pizza with for 30 years) he changes the entire way we should be looking at, and talking about sex. It also kind of makes you want pizza.
Tilly Lawless: Sex Work Is Integral To The Feminist Movement
Tilly Lawless is an Australian sex worker who is an important voice in the sex worker rights movement. Featuring on many different platforms including ABC TV's "You Can't Ask That", Tilly is a strong feminist queer woman on a mission for autonomy, rights and sex worker independence. In this talk at a TEDx Youth Event she looks at the subtle and not-so-subtle ways radical feminists who oppose sex work (most often referred to as SWERFs – Sex Worker Exclusionary Radical Feminists) cause damage to all women in their quest to abolish the sex industry. Tilly talks frankly and articulately about not only her own work but of the lives and struggles of marginalised sex workers (women of colour, trans workers, migrant workers, drug users etc) that are made even worse by the excluding of them from feminist discussions. It is a call to young people (and all of us) to change the way they talk about and to sex workers and why the voices of these women are important and necessary in the discussion about women's rights.
Sue Jaye Johnson: What We Don't Teach Kids About Sex
Sue Jaye Johnson is a multi-award-winning journalist who specialises in looking at the way cultural perceptions shape our public and private behaviour. As one of the resident speakers for TED she has many talks examining these issues and this particular one is important for anyone raising children. It examines how we speak to young children about their feelings, their emotions, and most importantly their pleasure. It looks at how we can translate these conversations into lessons about self worth, self love, pleasure, relationships and how important it is, especially in the lessons we teach young women, to acknowledge, understand and embrace their own pleasure and tactile enjoyment.
Copyright © 2023 Adult Match Maker It is illegal to use any or all of this article without the expressed, written permission from Adult Match Maker and the author. If you wish to use it you must publish the article in its entirety and include the original author, plus links, so that it is clear where the content originated. Failure to do so will result in legal action being taken.
The content posted on this blog is intended for informational purposes only and the opinions or views within each article are not intended to replace professional advice. If you require professional relationship or sexual health advice you should consult with an appropriately trained and qualified specialist.