7 BDSM Movies for Your Kinky Pleasure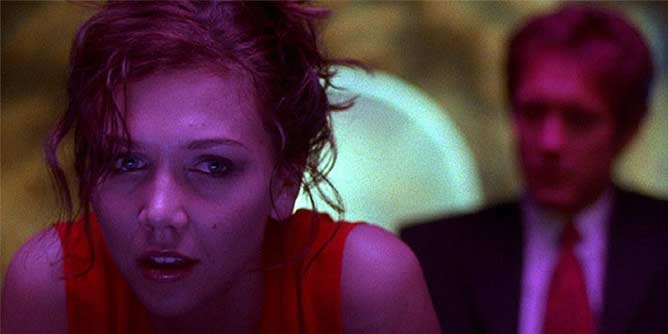 This iconic image is from The Secretary
Making a 'best of' list is always a challenge, and no more so than when compiling the best BDSM Films.
Our resident kink expert MisKnickers has chosen films that are fairly accessible, with many of them are available on streaming services.
There are plenty of films out there featuring kinky sex, bondage and spanking, but not all of them are 'BDSM' films. To help filter the process she has chosen films with a definitively BDSM context, where consent is a concept, either explicit, or thematically implicit. As we know, for BDSM to be what it is there must be consent.
Crash (1996)
Crash sees James Spader starring yet again in another story of 'misunderstood' sexuality – this time a collision leaves Spader's character with a newfound fetish for car crashes. This is a super interesting film, about a very specific fetish – symphorophilia. Symphorophiles get off on witnessing or being part of traumas, like fires or road accidents, and fittingly Crash is a graphic film in both gore and sex, and for some, definitively confronting in terms of subject matter.
Nymphomaniac Parts 1 and 2 (2014)
Nymphomaniac is the four hour feature film telling the story of hypersexual, Joe, as she narrates her life to the stranger who saved her life. It's Part 2 when the sadomasochistic side of the story really kicks in, but when it does, the story takes on an extra dimension of fascinating. This film was made by Lars Von Trier, who could be fairly accurately described as the David Lynch of Danish cinema; not only does he use unusual, often experimental, techniques to tell stories of underlying darkness, he asks for quite a lot of engagement from his audience.
Secretary (2002)
Without a doubt one of the most popular films on sadomasochism, Secretary features our favourite performing pervert, James Spader, as the original, upwardly mobile but ultimately dysfunctional, Mr Grey, and Maggie Gyllenhall in a perfectly mousey portrayal of his self-harming, anxiety-prone secretary, Lee. While much of the sado-masochism early in their relationship is in no way consensual, Secretary has a fairly decent go at showing how this relationship can potentially evolve to one based on an enthusiastic and happy consent. Plus there are some truly gorgeous – perhaps even inspirational – scenes. If you like what you see and want to know more about submission, you can check out my article.
Rocky Horror Picture Show (1975)
Subversive, huh? Yes, this poppy little musical, played ad nauseum at teenage sleepovers, may have always been a little risqué. And it's not in the list for the odd bit of bondage and medical play, or a spank here and there. What we're also watching is the disintegration of several relationships based on power exchange dynamics; it's the story of a 'Master' who breaks the limits of those in his 'service', and how each broken relationship culminates in his ultimate downfall.
Venus In Fur (2013)
It's hard not to watch this film and wonder how much of Roman Polanski's own understanding of power informed his direction. Let's not forget Polanski fled the US while awaiting sentencing for statutory rape, so his ideas of consent seem somewhat cloudy. In Venus In Fur we watch an aspiring actress charm a frustrated director – it's a simple plot that allows the characters and their increasingly intense relationship to truly shine. The performances are beautiful, and worth the watch to the incredible final scene.
Eyes Wide Shut (1999)
For the masochists out there, we're sure you'll truly enjoy Stanley Kubrik's painful one-piano-key-at-a-time soundtrack. For everyone else, check this film out for a study of voyeurism. Not only are the main characters witnesses to events that ultimately affect their relationship, but we as an audience are witness to some raw intimacy and dialogue that few films indulge.
The Notorious Bettie Page (2005)
This biopic doesn't necessarily grab an audience as a kinky or BDSM film. And if you're looking to be particularly titillated, it's maybe not your best option – unless you have a thing for Bettie Page and those corsets! In a BDSM context, this film gives us a great look at the very underground BDSM scene of 1950's America, and the woman who unsuspectingly became the 'Queen of Bondage'.
The Story of Oh, Yeah…
Trailer for The Notorious Bettie Page on TrailerAddict.
The Story of O did not make the cut – sorry. In it's place, here's a list of Australian-made erotic and BDSM content producers who will give you some non-Hollywood, all ethical, absolutely BDSM-focused short films and documentaries. If you want to see the truly outstanding films, please check out these amazing people:
Permission For Pleasure: content including breathplay, sploshing, waxplay and whips.
Sensate Films: content including the incredible edgeplay documentary Love Hard
Knowing full well there's films we've missed, not seen, or forgotten to add, why not tell us your favourite BDSM film? Why stop at seven of the best? Let's keep this list growing.
Copyright © 2020 MisKnickers It is illegal to use any or all of this article without the expressed, written permission from Adult Match Maker and the author. If you wish to use it you must publish the article in its entirety and include the original author, plus links, so that it is clear where the content originated. Failure to do so will result in legal action being taken.