So You Want To Be A Submissive?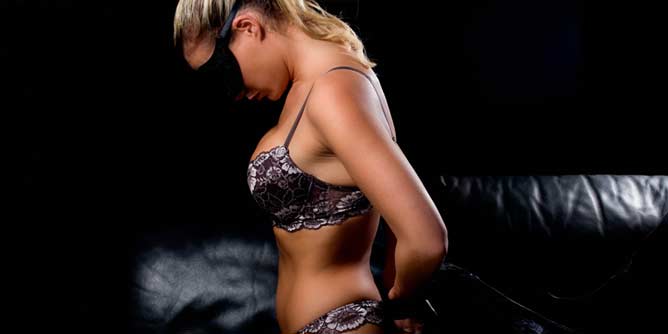 So you've decided that the thought of being submissive appeals to you, and you want to take it beyond a fantasy - where do you start? What does it take to be a submissive, and how can you tell if it's something you actively want to explore? With so many ways to submit, how do you work out what's right for you?
The Desire to be Submissive:
Regardless of whether they're part of the bdsm community or keep their kink confined to the bedroom, one common thing that truly successful submissives have is a real desire to be submissive. For some, it's part of their general nature, they enjoy serving others or have masochistic tendencies. For others, submission is a way to relinquish control and responsibility, to relax away from the demands of everyday life. Really, the only 'right' way to enjoy your submission is negotiated with your Dominant or play partner.
Although communicating this desire can be tricky, particularly if your sex life has been generally mainstream, the ability to express your desire to submit will be a good start to being submissive. With consent being so vital to these activities, be sure your partner knows the role you expect them to play, particularly when this is new to them too.
Knowing Your Limits (and Communicating Them):
Ahhhh… limits. The things we won't do… Yes, we all have them. And yes, it's fine. It really is fine. Not only is it okay to voice them, but for enthusiastic, happy, and trusting consent to occur, it's pretty much vital. Submissives' limits are not defined by their Dominants; rather, play is negotiated within the confines of both parties limits.
If contemplating bringing some D/s to your life, whether for sexy fun, or the BDSM-based action, a written record is brilliant. Write down your thoughts on limits and change them as often as you need to. Much like our kinks and fetishes, our limits can change and evolve. When the time comes and a play opportunity arises, you'll be clear about where you're at, and ready to say so. Those with established relationships can include their partners in the process. A shared hand-written journal, or an email or text thread, not only keeps you connected to the kinky and playful side of your life, but it serves as a definitive guide to what is (and isn't) ok at that point in time.
Personally, I love exploring my limits; watching them progress and regress, and examining why they change.
The Ability To Say 'No' and/or Safeword:
This probably seems super obvious, but saying 'no' or safewording during play can be really difficult for some submissives. Many of them want to be of service, so to not agree to do something for the person they're submitting to sometimes feels 'wrong'. Hard limit or not, if someone asks you to do something you're uncomfortable with, say no. For some, being submissive may equate to 'doing what you're told', but always keep in mind it's within your agreed boundaries.
If your Dominant knows you will use safewords, there more opportunity for them to indulge in much more dynamic and edgy play. It also means they have a definitive stopping point if for some reason you're triggered. The Traffic Light System is a standard starting point (Green = All Good Amber/Orange = Close to a limit Red = Stop Immediately). Safewording is NOT a sign of weakness, it's not a show of 'tapping out' - it's a sign of self-awareness, self-care and care for your partner. And it enhances trust. Do keep in mind, for some people vocal safewording is difficult. Physiologically this can relate to the fight/flight/freeze response activated by the play, leaving the person literally voiceless or incoherent. Plus the breathtaking nature of deep subspace can lead to a lack of coherence that makes safewording tricky. It's always good to have a hand signal as back-up for when words literally escape you.
Educate Yourself:
Submission doesn't mean accepting a random Dom-splanation on what you 'should' do if you 'really' are submissive. Being the 'receiver' of the play, doesn't make you any less responsible for the risk inherent to that particular scene.
Whatever kinky plans you make - whether it's roleplay, impact, sensation, or purely sexual - if it's something you're unfamiliar with it's a great idea to read up on the topic. If we haven't covered it on an AMM Blog, then a web search will surely help. Primarily, check out any common risks associated with the activity, and the precautionary items to have on hand. Also establish if any current health conditions can increase the risk of the play, eg. people with low blood pressure face an increased risk of dizziness, light-headedness and/or fainting when indulging in some types of bondage. There are generally ways to indulge in the play and minimize the risk to your body, but this is dependent on both the individual physicality, and the amount of risk one is willing to take.
Educating yourself gives you great insight into potential partners; is the person wanting to Dominate you risk-aware? If you know your stuff, you'll soon know if they really know theirs.
Ultimately submission is a game played by two, so make sure your partner is on the same page and enthusiastic to take the Top role. Just a little thought and understanding can change your day-to-day relationship into something with a sexy and surprising twist, while at the same time exploring a whole new side of yourselves. However you play it, be risk-aware, be keen, and do it with people you love, trust and/or respect, and it's pretty hard to go wrong. Happy thoughts, and enjoy your kink!
Copyright © 2023 MisKnickers It is illegal to use any or all of this article without the expressed, written permission from Adult Match Maker and the author. If you wish to use it you must publish the article in its entirety and include the original author, plus links, so that it is clear where the content originated. Failure to do so will result in legal action being taken.
The content posted on this blog is intended for informational purposes only and the opinions or views within each article are not intended to replace professional advice. If you require professional relationship or sexual health advice you should consult with an appropriately trained and qualified specialist.