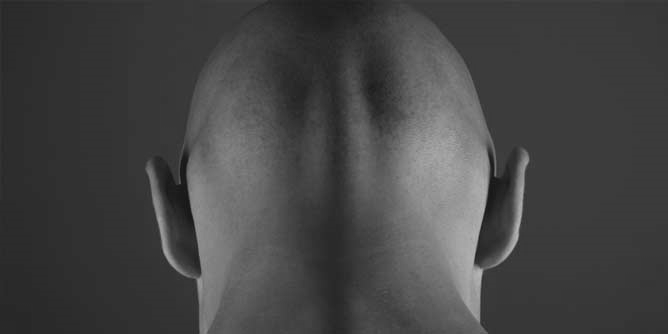 Great news for the folically challenged. Yep, researchers have confirmed that balding men are leading the way when it comes to sex appeal. Bald really is the new black!
So ageing sucks, right! You might be financially better off, be a little wiser and little more worldly but then it takes a couple of days to recover from an all night party (if you have the energy to stay past midnight), the person looking back at you in the mirror is definitely showing signs of having a dad bod and then there's losing your hair.
In the years before men bravely took to razors and clippers when their receding hairline threatened to overcome gravity, comb overs, hair pieces and weird Friar Tuck style hair dos were the norm. Of course Donald Trump has tried to make the comb-over trendy again but the New York Post reports that even daughter Ivanka Trump often makes fun of her dad's comb-over to friends. Yes balding men were the subject of late night jokes and pity from those men who defiantly sported glossy locks well into their 50s and 60s. But no more. What used to signify aging and hair loss now signifies a sexy hunk of maleness.
Of course the cause of balding men has been boosted by sexy bald men in the media such as Bruce Willis, Vin Diesel, Patrick Stewart & Kelly Slater who all ooze sex appeal! Check out the casting of dominant male characters in films and it confirms that bald is a winner at the box office.
The Australian Institute of Hair Restoration publishes US statistics which show 40% of men will have noticeable signs of hair loss or male pattern baldness by the time they hit 35. The percentage grows to 65% by the time they hit 60. And surgical hair restoration is a whopping $1.9 billion industry.
It turns out shaving your head can be one of the most liberating and empowering things you can do, because apparently, bald dudes are perceived as more intelligent, dominant, and overall sexier than men who have a full head of hair.
But let's get onto the juicy research findings.
Firstly Dr. Frank Muscarella from Barry University in Florida. In his study, Muscarella and his team asked participants to rate a selection of men in four domains: physical attractiveness, aggressiveness, appeasement, and social maturity, which included factors like honesty, intelligence, and social status. The study found bald men are thought to be more socially mature, intelligent, educated and honest compared with men who have a full head of hair.
The results showed men with a full head of hair had the lowest ratings of social maturity, the men with receding hair higher, and bald men the highest. To put the findings in perspective, physical attractiveness was down a little in this study but it was definitely outweighed by the other categories.
Muscarella told the Daily Mail; "Studies have shown baldness in men is seen as a non-threatening form of social dominance. There is a large body of literature that shows that although women like physically attractive men, they are also very attracted to signs of high social dominance."
More recently, Dr Muscarella conducted an unpublished study, which showed that there was no correlation between the amount of baldness a man exhibited and the number of sexual partners he had over his life. While this does not necessarily show balding men attracted more women, it does suggest the baldness is not a barrier to men attracting women.
And then a second study conducted by Albert E. Mannes at the University of Pennyslvania looked at the perception of men with and without hair. The study used photographs of four men with hair and photographs of the same men with their hair digitally removed. The research results found men who shaved their head slightly more masculine than men with a full head of hair. They were also viewed as more confident and dominant.
The takeaway here is that if your hair is thinning bite the bullet and shave it off. Yes it's a bold move and a beanie might be required if you live in Melbourne or Hobart but you will reap the rewards when it comes to sex appeal.
Copyright © 2020 Adult Match Maker It is illegal to use any or all of this article without the expressed, written permission from Adult Match Maker and the author. If you wish to use it you must publish the article in its entirety and include the original author, plus links, so that it is clear where the content originated. Failure to do so will result in legal action being taken.