Have you been listening to bad sex advice?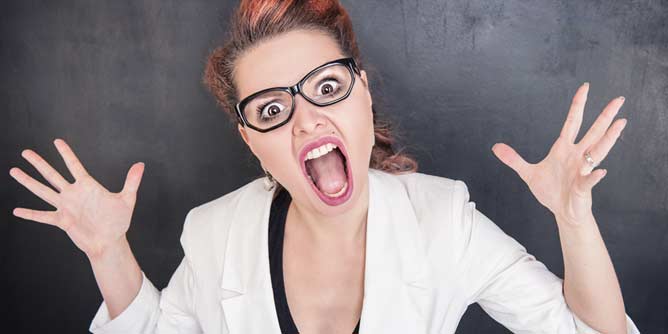 Ah the internet - land of endless knowledge and cat memes. What a world it is. You can find information about anything, and when I say anything, I mean it. You can look up a tasty roast pork recipe while listening to your favourite band do a live set, while chatting to someone halfway across the world, all while learning how to make the perfect bomb.
Seriously. It's got it all. And, of course, with it all comes a bunch of stuff that's not necessarily all that good – bomb making, for example.
Fake news, the buzz word of the last few years, is rife and getting worse. It's not just your Avocado Wolfes making dumb fake news posts about cosmic mushrooms and "toxic" gravity any more, it's spread to news rooms (although, Fox News has been called Faux News for years for a reason), to medical information sites (Belle Gibson or the Anti-Vax crowd anyone?).
It's absolutely everywhere and it's getting harder and harder to sort the truth from the lies and the real information from the twisted "science" and "alternative facts" that supposed professionals keep putting out there. Sex advice is no different. Every day I see something posted on my social media feeds that makes me grit my teeth and shake my head and scream at the computer "Omg NO! Don't do that you'll end up ruining your vagina omg!!" so I thought it important to put together a bit of a collection of some of the worst sex advice that's out there, and try and help you all sort the fact from the fiction and point you in the right direction of where to go to get actual, proper advice.
Facebook Pages
Okay, so there are some really great and some really not-so-great pages and groups on Facebook that deal with sexual health and sex advice, and sometimes it's super tricky to work out who is telling the truth and who is speaking out of their arse.
Probably one of the worst pages I've seen for sex advice is an ultra popular, ultra controversial group that I've been an on and off member in for years and I honestly cannot tell you if they offer "advice for bad girls" or "bad advice for girls". I mean, yes, of course I know what they are trying to say, but if I had to describe it I would definitely say the latter. Look, don't get me wrong, it's great that there are groups dedicated to women's voices, especially sexual voices, and it's awesome to see so many young women exploring and expressing their sexuality, but the problem I have with it all comes from the fact that it's a group full of the blind leading the blind. There are no actual sexual health or sex therapists running or admin-ing the group, there are no doctors in charge, no-one with any real qualifications or knowledge except that which they've read in a "Cosmo" magazine, and so when someone posts a question or a story in there the replies are a mix-matched tangle of truth, half-truths, downright lies, and information so very bad and dangerous it makes my vagina cry.
For example I remember a post in there about douching. I commented about the difference between anal douching and vaginal douching and warned against the latter, only to be told by some ridiculous 19 year old that I was "kink shaming" and "basic" and that it was against the rules to shame people for their choices. Um… No. First of all douching your vagina isn't a kink, it's just a really great way to get thrush and bacterial vaginosis, and secondly telling people that they are doing something incredibly risky to their bodies isn't shaming, it's offering a professional opinion on a subject I have extensive knowledge on. But I digress. I have seen posts in there that claim you can't catch STIs from oral sex (wrong), that babies in utero are safe from STIs (wrong), that coconut oil is the world's greatest lube and is safe for all condoms and sex toys (wrong). I even once saw a thread in there about double-wrapping (using two condoms at the same time) being the best way to prevent STIs - it really, really isn't. In fact it will most likely end up tearing the condom and increasing your risk exponentially, and this is the same for wearing both a condom and a femidom (a female condom that's worn inside the vagina) at the same time. Just don't. Choose one.
The thing is, Facebook groups like this can be a really good thing for so many reasons. Like I said at the start it's brilliant to see women opening up and expressing themselves sexually, and having a large community of women to support you and be a part of can be wonderfully liberating for so many women out there, but unfortunately it does come with a price. Not only can the advice given out be false to the point of dangerous, but also, in inevitable internet fashion, the bullying and doxxing and trolling nastiness can be soul destroying. My advice to you is to always check with a reputable medical or sexual health website – Sexual Health Australia is a good one as is Health Direct - before taking any kind of advice given on a page like this, and always get real medical advice and treatment from a doctor.
Gwenyth and Gang
I already mentioned David Avocado Wolfe in the introduction, but unfortunately he is not the only crackpot out there selling super bad medical and sexual advice for the high cost of one of their "miracle cures" and possibly your own death. The internet is full of them, and one of the leading crackpots with terrible advice for your bits is Gwenyth Paltrow. Look, Gwen, I really liked you in Sliding Doors and I'm probably the only person on the planet who isn't ashamed to admit I liked your song with Huey Lewis, but when it comes to sexual health and sex advice you really need to step the fuck back and leave it to actual professionals. Almost every bit of advice I have ever seen on her website has me cringing and closing my legs. A lot of it is blended in with a mix of old traditional practices and a bunch of spiritual woo which, considering how much woo-science and ancient spiritual language is the flavour du jour for all "enlightened" people (namaste, bitches), isn't all that surprising, but it doesn't stop it from being bad and sometimes dangerous advice.
From recommending vaginal steaming (squatting over a large bowl of steamy water filled with essential oils and whatnot) to cleanse and restore female hormones (no no no. Firstly the vagina cleans itself and secondly if you have hormonal imbalances please talk to a doctor, lavender oil will do nothing!!), to using a jade egg for kegel strengthening (while yes, using ben-wah balls and eggs is definitely a great way to strengthen the pelvic floor, jade and other mineral rocks are actually incredibly porous and will harbour all sorts of bad shit and knock your whole vaginal pH balance and health out of whack all while doing absolutely nothing for your chakra because crystals are just pretty rocks and not fucking medical miracle Sharmans or whatever), to warning people about the "bad energy" attached to lingerie you wore with a past lover that will ruin your new sex life and create bad juju in your relationship. Okay, I totally understand the need to rid yourself of exes past, and that memories connected to certain things might not be brilliant for a new relationship, but holy fuck, Gwen, we don't all have millionaire status, and lingerie is fucking expensive, and if you're the sort of person who believes in bad juju or whatever, then surely you're also the sort of person who believes in "cleansing" with things like sage or crystals so why not just run a lump of quartz over it, say your "banishing spell" and save yourself $150?
I really cannot stress enough that getting medical advice from celebrities with no actual medical qualifications is a bad idea. I don't care how brilliant an actor or singer they are, if they're spouting off medical advice it's uber important you double check it against real, peer-reviewed medical advice because an actual medical or science degree outweighs a famous person's "feels" every time.
Cosmo and Other Mags
Oh dear. Where do we start with Cosmo? It's tricky because Cosmo really is (or at least was) a great magazine for young women. Especially back in the dark days before the internet. It was your one-stop-shop for fashion and make-up tips and articles about your favourite celebrities and all the fashion and make-up tips they used… Okay, fine, it was a rather shallow beauty magazine that every now and then had a steamy "sealed section" where you could learn about masturbation or read Mills and Boon type erotica, but it was definitely part of that wonderful coming-of-age magazine collective like Dolly and Cleo that sought to educate, inform and empower young women. Enter Cosmo of the new millennium and I couldn't be more disappointed. Seriously. For one of the world's most famous and long-running publications, surely they could afford to employ a sex advice giver who actually knows what they're talking about? I'm sure most of you have seen their terrible doughnut tip (put his penis through the hole and nibble at the doughnut… No I'm totally not joking) but they have even worse advice than that! Like sprinkling pepper under his nose just before he comes because a sneeze will add to the orgasm intensity, or the super non consensual tip of filming your session in secret or, even worse, getting someone to hide in the closet, unbeknownst to your partner, to watch you both (Just stop it!). I cannot stress to you enough that it is not only really fucking bad form to do those last two, it can also be illegal and a form of sexual assault, so just don't be a dickhead and make sure your partner is aware of any other people or recording devices you may want to bring into the bedroom.
The main thing to remember is if it sounds dumb, or a bit dangerous, or something you will have to hide from your partner, then listen to your instincts. Anything to do with food and genitals is a bad idea, as is anything that requires you to do something that makes you uncomfortable. Yes, one person's discomfort is another person's kink, but you know yourself well enough to know if that tickle in your tummy is nervous excitement or nervous fear, listen to it.
When it comes to seeking advice, and it really doesn't matter what advice you're looking for be it sex, or gardening, or food, or anything, the best people to go to are the experts. Just as you wouldn't seek plumbing advice from an English teacher, so shouldn't you be getting your sex advice off an actor, or a random girl called Becky in your Facebook group. When it comes to sexual health look at legitimate medical websites (ending in .org is often a good indicator they're not just out to sell you something) and there are some good Aussie state based sites to be found on google. And with other sex advice I suggest researching the people giving it (what qualifies them to be giving out this information?) and the website or publication they are giving it on and, most importantly of all, double check everything you hear and read and listen to your gut. Stay safe, stay informed, and stay sexy! I do hope you will take my advice on this.
Copyright © 2019 Eva Sless It is illegal to use any or all of this article without the expressed, written permission from Adult Match Maker and the author. If you wish to use it you must publish the article in its entirety and include the original author, plus links, so that it is clear where the content originated. Failure to do so will result in legal action being taken.