How to Have a More Orgasmic Sex Life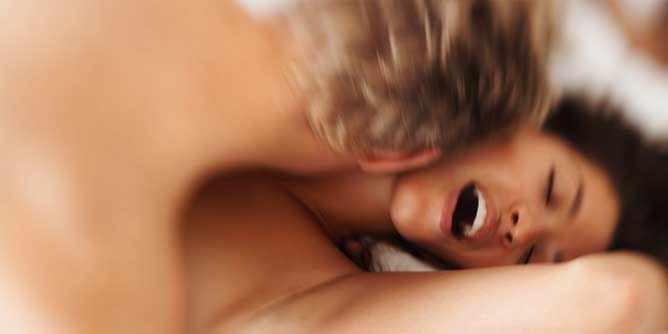 In the great lottery that is love, lust and relationships, everyone's choices are half chance. Are you a swinging single, or do you – like me – have one great love, or have you got six sensational ones on the go? Lucky you – tell me, where do you get your energy?
Regardless of your relationship status – certain indisputable truths apply when it comes to maintaining hot sex and love affairs. Here are my 5 tips for living a more satisfying, orgasmic life.
Before I dispense these straightforward truths, here are my list of assets, so you know of my hard-earned credentials at the University of Life:
Singleton stripes of experience until my mid 30s which saw me date 1000 (well, not literally) Mr Wrongs until I met my right one.
One husband of almost ten years – and yes, we still have sex (quite a lot, thankfully).
Two kids under six, aged just 15 months apart (what were we thinking?!)
One clinical psychologist mother (retired), who's the smartest, wisest person I know – she's especially good in a crisis, which is extremely handy.
Of course, advice is a form of nostalgia, so take from this what you can. Just know that I love orgasms as much as you, and these top tips come from my heart.
Love deeply, forgive easily
This is one of Mama Carrington's best pearls of wisdom. It can be hard to put into practise when you can't stand the sight of your partner/lover/spouse amid a stupid and senseless fight over money/the kids, who's turn it is to do the groceries, but it's a great one to learn to put into practise, I promise. Compromise and forgiveness are key to any successful relationship – you're not going to be having the best sex of your life if the dark shadows of anger and resentment have seeped into your heart and soul. Don't fester – forgive. Plus, hot sex really helps the sorry – make-up sex can be up there with some of the dirtiest, most passionate play you and your lover can enjoy. Personally, I never stay angry for long – with the dawn of each new day, it's easier and kinder to yourself and others to let go of any anger and resentment moving forward. Don't be reckless with other people's hearts and never put up with that yourself.
Do the hard work on yourself
If you come to a relationship as an empty shell of a human, looking to fill the "God-shaped hole" and emptiness in your heart with something, or someone – your relationship will invariably fail. Being single is a great time to do the hard work on yourself, body/mind and soul – find out what makes you tick and learn to like yourself and your own company before you even think about committing to another human. Read, travel and become an interesting, well-rounded and confident human – the type of mate you'd ideally want to attract. Fuck the Cinderella myth – no one is going to swoop in and save you, so save yourself. Oh and don't even think about trying to have a great sex life if you haven't learnt your own pleasure points. Get to know your own body and what turns you on; learn to self-pleasure.
Be nurturing – give to get back
Top of my list on what makes a great relationship are kindness, unwavering loyalty and orgasms. And these three things are inevitably inextricably linked. Build your lover up and they'll reward you again and again. Much is written about good communication being the top secret to successful, enduring and orgasmic relationships – and of course this is vital – but kindness and loyalty are just as important. For me, there's nothing sexier than coming home to a nurturing and thoughtful partner who treats me with respect – whose loving acts of kindness/service make me feel cherished and adored. It can be something as simple as cleaning up the kitchen/kids, making dinner or an unexpected, random bunch of flowers – these small acts equal big, happy orgasmic outcome. And when it comes to loyalty, love and relationships, actor Sylvester Stallone summed it up better than I ever could: "I learned the real meaning of love. Love is absolute loyalty. People fade, looks fade, but loyalty never fades. You can depend so much on certain people, you can set your watch by them. And that's love, even if it doesn't seem very exciting." Give freely, be dependable and get orgasms aplenty in return – it's really that simple. Looking into the kind eyes of your lover – someone who really gets you and loves and accepts you, even at your worst – is what true intimacy is all about.
Adjust your expectations
Children are, as we all know, the greatest form of contraception known to man. Be very careful about deciding whether to have them – they will be your greatest gift and source of unimaginable joy – as well as the biggest stumbling block to an easy, stress-free relationship. Small kids are incredibly demanding and taxing on your time, sanity and sleep – plus, be prepared for swinging lapses and changes in your libido you never saw coming. The life lesson is to adjust your expectations – you might not be able to enjoy those free, sensual three-hour sex romps – a passionate quickie might be all you've got time and headspace for right now – so make it count. Nothing is static – relationships are ever-changing, you'll get the super-sensational sex back later when the kids are older – if you work hard at it. Having kids won't kill your sex life, but it will change it. My husband and I make a conscious effort to really work on this aspect of marriage, because we've both aware of how much happier we are as individuals and as a couple when we're having regular sex, which only serves to strengthen our love connection. Don't be lazy – do the work and keep the sex fun and playful and varied – just don't expect yourselves to have the time and energy for sex as you used to when you first met. Did I mention we had two kids just 15 months apart? If we can survive this utter madness, sex life intact and as orgasmic as ever, so can you.
You're no one's "better half"
Another unsung relationship hero to long-lasting love affairs is maintaining your own independence, interests and friendships outside of your relationships. I am fiercely independent and really need time with friends and my solo time to stay sane – thankfully, my husband is the same. If you're always smothering your partner and being demanding and needy, that can spell absolute doom for your sex life. Time apart from each other keeps things fresh and reminds you of why you fell for your partner in the first place. Choose your partners well – compatibility is crucial. Find someone with the same values, outlook and approach to life – see each of you as a whole person, not someone's missing bits – come to a relationship with a "full cup". Always maintain your independence and your ability to earn money and pay bills ¬– never expect a spouse to support you. And never give up your passions in a relationship either – it's what makes you uniquely you. My husband's interests are sometimes baffling and foreign to mine – he has an inexplicable passion for darts and Philip K. Dick's sci-fi books and, being a professional musician, owns a thousand instruments. I don't expect him to share my deep abiding love of shoes/fashion and yoga/boxing/kickboxing sessions either, but we always meet in the middle with our shared love of each other and our kids, strong, mutual passions and a shared investment into our orgasmic future. And for me, that's all I need to live my best life – except for maybe wine and fine chocolate. Did I mention that chocolate makes you feel more amorous? Look it up.
What do you think? What are your relationship secrets for hotter sex?
Copyright © 2020 Nicole Carrington-Sima It is illegal to use any or all of this article without the expressed, written permission from Adult Match Maker and the author. If you wish to use it you must publish the article in its entirety and include the original author, plus links, so that it is clear where the content originated. Failure to do so will result in legal action being taken.