How does smoking weed affect your sex life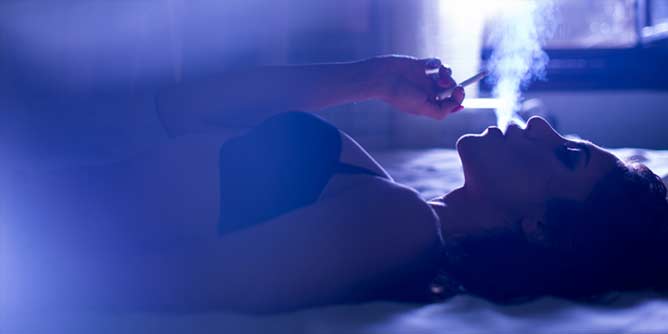 As laws and attitudes towards marijuana begin to change around the world there has been an increase in both researched and anecdotal evidence on the positive effects it can have on our lives. This is in medical applications, in mental health applications, and also in sexual applications. From cannabis infused tampons to help women deal better with menstrual cramps, to cannabis infused lubricants and sex arousal creams to enhance and spice up your sex life, this old-as-time weed is getting a modern-day, sexy revamp.
In fact, according to a new study published in the Journal of Sexual Medicine, pot smokers are more likely to have regular, enjoyable sex than non users. So we decided to have a look at some of the pros and cons that go along with this growing trend so you can make your own, informed choices.
How weed can positively affect your sex life:
Relaxes and loosens your mind
Combining the floaty contentedness of being high with the floaty contentedness of orgasmic bliss really is the perfect way to experience sex. Your body and mind become one happy, fuzzy puddle of good feelings and your mind opens up to new sensations and experiences. When the body is more relaxed we begin to let go of certain inhibitions and fully embrace the powerful eroticism our bodies are capable of, giving us new and wonderful sex-periences to explore and indulge in.
Increases blood-flow and sensitivity
With the added cannabinoids in our system, and the ensuing relaxation and de-stressing of the body, comes the added benefit of deep breathing and oxygen intake causing increased blood-flow. And one of the most important things we need to heighten arousal and sensitivity is blood-flow. The more blood we have filling our sensitive areas like the penis or the vulva, the more sensations we get from them, and the more sensations we get from them the longer, stronger and more frequently our orgasms come. It's basically a win win situation all round!
Bonding Activity
Recent research has shown that couples who indulge in the wacky-tobbacky together have higher rates of staying together than couples who don't, and this is down to a few different reasons. Being high and relaxed around them increases trust and promotes intimacy bringing people much closer together, and weed-smoking couples reported far less instances of arguments and fights within the relationship than non-smokers. Having an activity to share together is another aspect of weed smoking that brings couples together, as is the fact that most people who partake are usually far more open-minded and socially aware and have fewer judgements and prejudices towards differences.
How weed can negatively affect your sex life:
Apathy and meh
Probably one of the biggest concerns about weed is the fact that it has the ability to make you not really bothered to do anything at all. The more regularly you smoke, the more likely you are to lose interest in doing stuff, and that can go for sex as well. While yes, sitting on the couch stoned and eating pizza while staring at another season of Netflix can be the perfect date night together, it can also become a rut that takes precedent over other activities and enjoyment like sex and conversation.
Lower fertility rates and decreased sperm count
If you and your partner are trying to conceive it's probably a good idea to put the weed away for a while. Not only does weed slow down the process and ability to make sperm, making your count lower, it also has been known to affect the structure of the sperm itself making it difficult to penetrate and fertilise an egg. The good news is it's not a permanent thing so if you put the bong down for a month or so before starting your conceiving journey you should have less issues when it comes to the crunch.
Getting the dries
While most pot smokers are no stranger to the sensation of dry mouth, many of them don't realise that it has almost exactly the same effect on your vagina. The mucus membranes and tissues of the mouth are practically identical to the once in the vagina and respond in the same way, causing dryness and discomfort struggling to produce any lubrication at all. While I think lube is a must-have accessory for all sex play, it goes triple for those sexy stoned sessions, and should be applied liberally and often.
As always it is important for me to remind you to be safe and get consent, something that is super important, but that is often slightly further back in our minds when we are using substances that alter our perceptions and can affect our risk assessment. Also be aware that in Australia the consumption of marijuana for recreational purposes is illegal and, depending on which state you live in, can come with some pretty hefty punishments, so don't be stupid and get yourself into trouble. One day the controlling powers that be will wake up and realise that this harmless little plant could actually save the world in so many ways… But until that day, be careful, be safe, and bong on, dude.
Copyright © 2020 Eva Sless It is illegal to use any or all of this article without the expressed, written permission from Adult Match Maker and the author. If you wish to use it you must publish the article in its entirety and include the original author, plus links, so that it is clear where the content originated. Failure to do so will result in legal action being taken.