Aussie Ethical Porn You Should Be Watching!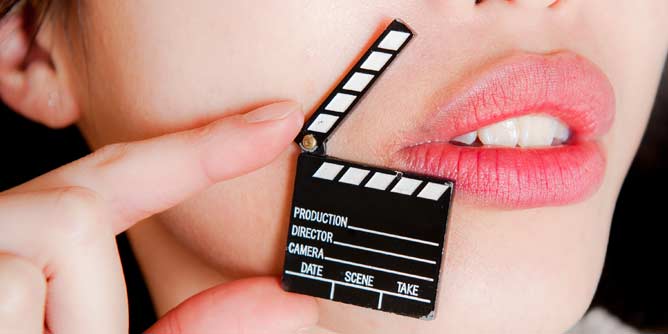 Porn. I love it. I love how diverse it is and how no matter what you're into, you can most likely find a clip or film that will speak to your inner-most desires. While yes I agree that there are some real issues in the world of pornography, I absolutely disagree that porn itself is the problem.
Exploitation and violence against women (whether in the form of physical violence or other more subtle ways like emotional and financial abuse) are definitely issues that surround the industry, and must be spoken out about and stopped… But that is not the whole story, and there are some amazingly positive and ethical porn companies and performers that are changing the way we look at the industry, and indeed women in porn.
One of the most exciting things about this new shift is how prevalent it is in Australia with Australian companies and actors changing the industry from the inside. As huge porn fans, we at Adult Match Maker wanted to pay tribute to, and celebrate some of the amazing Aussie women in porn who are opening up the conversations and mindsets around this controversial subject, and showing the world just how brilliantly ethical, non-radically feminist, and deliciously erotic porn can be.
Morgana Muses and Permission 4 Pleasure
Anyone who knows me knows Morgana is my best friend. I always need to make that disclaimer because inevitably someone will call bias, but she has made this list for all the reasons we became friends… Not just because of it. Morgana is changing the way we view women in porn, and in the way we see older women in general. At 40 she was a depressed, invisible housewife. She was unhappy, un-sexual, and basically ready to die. At 50 she is a multi award-winning, international porn star speaking at conferences and festivals with some of the biggest names in porn. Her story and journey is an incredible one of empowerment, awakening and rebirth and one that has not only inspired and re-energised women all over the world into giving themselves permission to explore and indulge their sexual selves, but is also the subject of an incredible new documentary being released next year called Morgana. I encourage everyone to check it out when it's released.
Follow Morgana Muses on Twitter
Michelle Flynn and Lightsouthern
In 2011, after spending a lot of time around women in the adult industry, film maker Michelle Flynn decided to create her own porn company, Lightsouthern, to celebrate the unique and beautiful imagery that was so rarely seen in porn. With her production crew of all women, Michelle creates these gorgeously cinematic films oozing with eroticism and sensuality, choosing actors with great chemistry, and storylines and images that are quintessentially Australian. Within five years of creation, Lightsouthern has become a huge multi-faceted business including film production in both mainstream porn and indy, an online toy store and online cinema, and even creating Australia's very first virtual reality porn. With nominations and awards given in almost every recognisable porn award show there is including the AVN in Vegas and the Berlin Porn Festival, Michelle is taking the world by storm and changing the way we view pornography, women, and the combination of both.
Follow Lightsouthern on Twitter
Lucie Bee
Lucie, otherwise known as the Goddess of Geek, is an Aussie pornstar stepping out of all the boxes to make her mark, and is changing the world as she does it. Combining her love of geek and cosplay with her love of sex and performing, and her strong moral code, Lucie has become a fixture in the Australian media speaking out loudly and intelligently on the stigma and issues adult industry workers face. She has stood up publicly to some of the biggest anti-sex voices in Australia to not only provide facts and reason in an often unreasonable debate, but to also be a voice for the hundreds of women (and men) who cannot speak up usually due to the fear of how society treats sexual women, and even more so those who use it for financial gain. Her activism and strength is inspiring and her porn is freaking hot as!
Follow Lucie Bee on Twitter
Anna Brownfield and Poison Apple Productions
Anna's films are, quite simply, amazing. They feature strong women and uniquely interesting storylines that focus on the pleasure of sex, the eroticism of women, and the overall chemistry and connections we discover when we connect sexually. Her multi-award-winning films have been shown in festivals around the world including the Feminist Porn Awards, Berlin Porn Festival, Cinekink, and even at the Cannes Film Market. Her messages of female positivity, sexuality and the diverseness of it all shine through the screen in gorgeous colour, movement, and downright delicious sexiness.
Follow Anna Brownfield on Twitter
Read our interview with Anna
Ms Naughty and Bright Desire
With a background in libraries and writing Ms Naughty, the founder and owner of Bright Desire, began her foray into the adult world as a writer for the Australian Women's Forum (a long gone women's erotica and porn mag in the same vein as Playgirl) and curating online porn sites. In 2003 she set up the website "For The Girls", an erotic website for straight women, which is still going strong, and in 2004 Ms Naughty was born in the form of a blog which spoke about erotica and porn for women. 2008 saw her pick up her first camera and film, "That's What I Like", which went on to win a Petra Joy Award and set the path for her journey into the world of feminist porn and women's erotica. With multiple awards under her belt and a regular speaker at conferences and events around the world, Ms Naughty is a fixture in the world of sex positive feminism and her messages of celebrating female pleasure and sexuality have been published in many books and journals, leading the way for the next generation of ethical and feminist pornographers.
Follow Ms Naughty on Twitter
Copyright © 2020 Adult Match Maker It is illegal to use any or all of this article without the expressed, written permission from Adult Match Maker and the author. If you wish to use it you must publish the article in its entirety and include the original author, plus links, so that it is clear where the content originated. Failure to do so will result in legal action being taken.