A Day in the Life of an Adult Film Director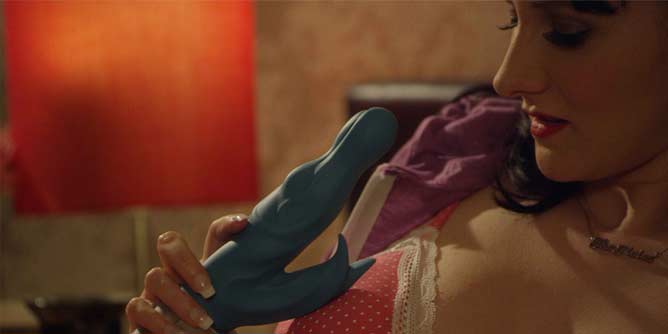 Welcome to our new blog series "Chicks in Charge" where we chat to women who have carved a successful niche in the adult industry.
Introducing Anna Brownfield, an award winning Melbourne-based feminist erotic filmmaker who has achieved international acclaim for her films. Her latest feature, The Bedroom, explores the exciting changes to sex and sexuality in Australia over 6 decades.
How would you explain to people unfamiliar with your work & career what you do for a living?
When I began, I called my films feminist erotica, because when I used the word porn, people made assumptions about the types of film I made regarding aesthetics and sexual stereotypes. I frequently use the word explicit and depending where I am will use the word pornography.
When I made my first explicit feature, The Band, my producer was worried that it wasn't explicit enough to be called porn but too explicit to be arthouse. In the end, it was distributed by both sectors of the industry.
Recently, my latest film The Bedroom screened at the Porny Days film festival in Zurich, Switzerland. Unfortunately, I couldn't attend but one of my friends did and said there was a lot of discussion after the screening, about if this was in fact a porn film or not! One of the things I endeavour to do is to push the genre.
As a society, we have come to accept a formulaic depiction of explicit content. Porn and its consumption is still surrounded by so much taboo, I think we often don't question what we see on screen and I wanted to provide an ethical alternative to that.
I read an interview where you said your passion was "making films that focused on women's sexual desires and fantasies, objectifying the male body and bring a female gaze to the genre". Can you explain what that means?
Most of the mainstream pornography you will see has come from a male perspective and caters to men's sexual desires and is formulaic in the way it's shot. As my greatest mentor, Candida Royalle, described it as "porn by numbers". When I began making explicit films, I wanted to create films that would focus on women's sexual fantasies and desires, and that they be shot in a way that was sensual, erotic and explicit. In my first explicit film, The Band, I focused more on men's bodies, unlike mainstream porn, where the man often becomes just a warm prop and the camera or gaze is heavily focused on the female body.
What do you love most about what you do?
What's not to love about what I do?? Seriously, I love it! I get to go to work with people who I admire, who are a lot braver than me and have such an open, healthy attitude towards sex and sexuality. Communication and transparency is very important in this industry, so it refreshing to have open and frank discussions about anything and everything to do with sex and sexuality.
I get to be creative and see some of the most amazing things. The first time I ever saw a woman ejaculate was when I was shooting a film featuring Zahra Stardust, I was fascinated and very honoured to have the privilege.
Since 2007 there's been a steady increase in google searches for "ethical porn". But despite being a buzz word it didn't rate a mention in the Pornhub stats for 2016 so it's not necessarily a term which is widely searched for. How can someone be confident that what they're watching is "ethical porn"?
One of the ways to know you are consuming ethical porn is to pay for it! Most ethical porn is created by independent producers who self-finance their work. When I first started making explicit films, if you wanted to access this type of content, even on the internet you needed to pay for it and prove you are 18 or over, but now with tube sites like Pornhub, people expect not to pay for porn. This impacts on the industry and wages drops, especially for performers! So if you want to know that your porn is produced ethically, be prepared to pay for it. Have a look at any of the winners of the Toronto International Porn Awards (formerly the Feminist Porn Awards) winners to get an idea of the people and companies that are producing ethical porn and not just using it as a marketing line!
I think Australians have a healthy attitude towards sex but your films seem to win more accolades overseas. Is Australia less porn focussed than, say, Europe, are we overly conservative or are there other reasons?
Overall, I think Australians have a healthy attitude towards sex and sexuality on screen.
Even in my non-explicit work, people have always commented that I had a very European aesthetic! My influences have been more from arthouse films. Two of my all-time favourites are a Spanish film by Julio Medem called "Sex and Lucia" and French film by Claire Denis "Friday night".
If you had to describe the typical Australian woman you think your movies appeal to, what's she like?
She wants to explore and grow her sexuality in a safe environment. I think she can be any age, I have had letters from women and couples in their 70s!
Has there been a career highlight or an ah-ha moment?
Oh which one do I choose???
When my first film, The Band opened the Berlin Porn Film Festival I was excited. It then got nominated and won a feminist porn award in Toronto, unfortunately I was pregnant at the time and couldn't travel there.
When my second explicit film was accepted into Berlin Porn Film Festvial I was very happy, then a few weeks later they informed me that it had been chosen to be opening night film, I nearly fell off my chair.
The Bedroom has since won Best Director at the Toronto International Porn Awards and more recently won the SuzyForever award for best direction at the Pop Porn film festival in Brazil!
Was there anyone who you feel influenced the direction you chose for your films either through being a role model or where you felt you could do it better?
Candida Royalle, who started making films aimed at women and couples back in the 1980s was a huge influence on me! I loved that her films had storylines, characters and hot sex scenes! I contacted her in the early 2000s after I had a particularly horrible meeting (where a company purporting to be female friendly, had said "why would we invest in you when we can pay a woman $50 in some eastern European country to do double penetration!). She was always very generous with her time and encouragement, she even gave me her home phone number so that we could talk. I got to meet her at the Berlin Porn Film Festival in 2009. Unfortunately, she passed away in 2015.
You had to crowd fund to make The Bedroom a reality and you've invested your own money into the projects. What can Australia do better to ensure there are more creative film makers out there?
Support your local pornographers! Go and check out Bright Desires, LightSouthern, Gala Vanting, Zahra Stardust, Aven Frey, Morgana Muses and Aeryn Walker of Naughty Nerdy to name a few.
Do you have advice for someone keen to get into adult film making?
Do your research and be professional, this is a job. I get contacted by lots of people who think this is quick way to make some money, it's not and no one likes a flake.
It's important to be professional, treat people with respect, be excellent at communicating and most of all be upfront and transparent about what you are doing.
Do you have a bucket list of things you haven't done or is there someone you'd like to collaborate with on a future project?
I just want to keep having opportunities to make films. As I get older, I would also like to mentor women who wish to begin making erotic/ explicit films.
Are there any myths about the industry you'd like to debunk?
One of the biggest is that women are exploited. Yes there are some companies that aren't above board, but that is with any industry. All the women who are involved are there because they have made an informed choice.
Do you have a dinner party story you'd like to share?
People often ask me if I get turned on while shooting my films. To be honest, I spend most of my time looking at a monitor, making sure the framing works and have we got enough footage for editing, etc, so I'm quite removed from the fact people are having sex in front of me.
However, during the filming of one sex scene, I briefly looked up from my monitor to see one of the performers looking at me, while he was having sex. Our eyes met and I was taken aback that there were people in front of me having sex. It was quite unnerving (I also found this performer quite attractive!), but I had to quickly regain my composure and return to looking the monitor.
If you could give the younger you some advice about your career what would you say?
Be even more fearless and don't let explicit define you completely as a person!
You can purchase your copy of The Bedroom online.
Copyright © 2020 Adult Match Maker It is illegal to use any or all of this article without the expressed, written permission from Adult Match Maker and the author. If you wish to use it you must publish the article in its entirety and include the original author, plus links, so that it is clear where the content originated. Failure to do so will result in legal action being taken.