3 Ways to Spice Up Your Swinging Life
When you start into the swinging lifestyle there are so many things and new sexy people you haven't experienced so it's uber exciting! Threesomes, foursomes and moresomes, in intimate settings or in clubs and a slew of new friends make it easy to keep entertained and stimulated for quite some time.
But after a while, a few years or more when you have an established group of swinging friends, what used to be exciting can become more routine; like your sex life gets with just two of you after a few years…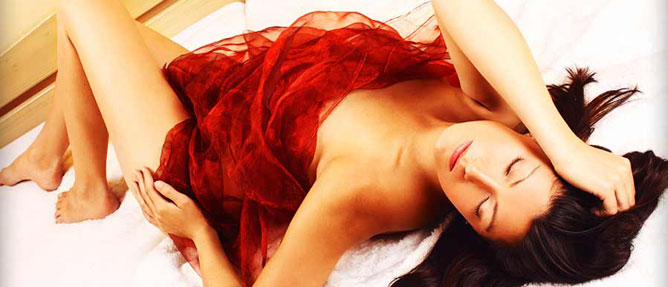 So what do you do when you've done all the "normal" swinging things couples do? You start to get creative and explore other options… Here are just three things you can do next time you have extra special company or you for an extra special night with just the two of you. One person can be the focus or you can pair up, it all works.
1. Full Body Erotic Massage
What you need:
Copious amounts of warm massage oil (don't microwave, just place in a bowl of hot but not boiling water)
Plenty of towels
A massage table or place to massage which can get oil all over it
Some drop/plastic sheets to be sure it doesn't get into carpet. Best to place towels on top of the drop sheets so you don't slip, safety first
Create the mood in the room with candles, fragrant oils or incense, and meditation-like music if you have any
The key to this being an amazing experience is two things – One is using as much of your own naked body to massage the other person, as much skin on skin contact as possible at any one time such as straddling them while they are face down and you dragging your entire upper body down theirs, your hands simultaneously moving down both their arms to their hands until your body is hard up against theirs and slowly moving back… And two, not touching genitals or nipples directly but doing your best to brush against them… Often! The art to this is to see how long you can keep each other on edge and practically begging for more and not giving in!
2. Sensation play!
If you have a kinky bone in your body or a whole kinky body, this one can be a lot of fun for both the givers and receiver.
Before you start:
Make sure you have some very clear verbal and/or visual signals for "more" and "less" or "STOP". I use the words "more"or "mercy", guess which one's which
Discuss any boundaries you have that you know. Oh and this is best done with a group of your beloved and trusted playmates
What you need (all optional):
Restraints for your bed or a massage table
Blindfold
Headphones/earphones to put some loud music on
Multiple "implements" such as feathers, silk scarves for light sensations, massage oil and your hands for medium sensations, forks, nails and toothbrushes for more intense sensations
Removing sight and sound only heightens the experience exponentially hence the blindfold and music.
Start with the lighter sensations, one person blowing air or dragging their hair along the skin of the person tied up, while others use the silk scarf or feathers, progressing after a period of time together to the more intense sensations; using forks to drag along the skin, nails, using your own hands to twist and/or grab the skin to the level they can handle (let them give you indications of more or mercy to know how far you can take it), then go back to lighter sensations and see how their body reacts. Be sure to stimulate every area on the body as it can be quite a show!
This kind of intense foreplay often leads to a more raw and animalistic play session afterwards… Grrrrrr!
3. A Foreplay Party!
The key to this one is foreplay ONLY! Swinger's parties are all about the play and the sex so for once I'm suggesting you deny yourself the usual ending and see how much sexual energy and frustration you can build between you all.
Now, I'm not saying you shouldn't orgasm, you definitely should at least try to but see how many ways you can do so without penetration! It's the ultimate challenge for the evening but see how stimulating everything you do ends up being.
There are many more options and variations if you really think about it but start with one, try them all or mix them together but let us know how you go and if you have more to add to the list!
Copyright © 2020 Chantelle Austin It is illegal to use any or all of this article without the expressed, written permission from Adult Match Maker and the author. If you wish to use it you must publish the article in its entirety and include the original author, plus links, so that it is clear where the content originated. Failure to do so will result in legal action being taken.