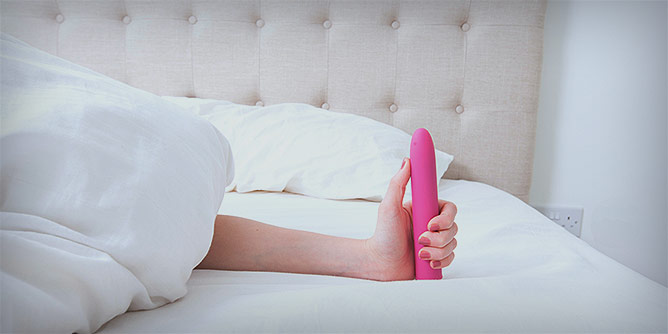 You know when you buy or are given something and, even before you've taken it out of the box and properly looked at it, you know it's going to be something really, really good? A hint of an exclusive brand label perhaps, or a flash of something sparkly and elegant. Well, to be honest, that's how I feel whenever I get to open the latest products from the crew at We-Vibe.
I love We-Vibes. I have a few different types and have never once been disappointed by them. They are the perfect addition to a couple's toy box, sleek and beautifully designed, made of high-grade silicone and deliver some of the best sex-toy orgasms my partner and I have ever had.
In short, they are awesome. How the hell can they improve on that?
Enter the Thrill. The newest product from We-Vibe that's not actually a "We" thing, it's a "Me" thing.
Whereas the other We-Vibe toys I own are designed to be used with your partner as you have sex together, the Thrill is a solo player toy that requires nothing more but your hand, a discrete spot to play (I would suggest you don't use it on the train) and a desire to experience an all over body-rush type of orgasm.
Designed quite similarly, the Thrill has the same "C" shaped curve to it so it's perfect for simultaneous G-Spot and clitoral stimulation. It has a similar range of buzz and pulse settings (eight in total) and has been manufactured carbon-neutrally and packaged using recycled materials. It is rechargeable, using a magnetic charger and a USB connector (which makes it 100% waterproof) and, because it is made with medical-grade silicone it is not only perfect for people with sensitive skin, it is also really easy to clean.
The differences come in a couple of ways. Firstly there is the size of the insertion end. In other We-Vibes it is quite thin, therefore allowing your partner's penis to slide in alongside it and use their movement to help push the toy against your G-Spot, this time they have thickened it up so it gives you just as much fullness as when using it with a partner. Secondly the toy uses just a one-touch control button on the end which changes the vibration settings making it super easy to use and control. It is also fairly quiet and won't attract the attention of your house-mate or kids in the next room.
It fits really nicely in your hand, and is easy to manipulate and bend to get it to just the right spot. If I could change one thing about it I would make the clitoral stimulation part slightly softer and the buzz a little stronger. I think the reason it isn't as strong as the other We-Vibes is purely because that part of the toy is made of a harder material because it's near where the charger bit connects. But really, it's not that much of a difference and makes up for it with all its other amazing qualities.
This toy really is a must-have for women who enjoy solo play and G-Spot stimulation and, with its one year warranty and great customer service feedback and information via the company website, this really is a product designed solely for your pleasure and satisfaction. I have no hesitation is recommending it to all women from those first starting out on their sex toy journey, to those well-seasoned players who are always looking for the next thing to add to their collection. I give the We-Vibe Thrill a eight and a half out of ten for usability, stimulation and design. I honestly cannot wait to see what they come up with next. I might have to change my whole grading system because if they keep going the way they have, they'll keep on improving until they find a way to make it even better than the real thing... And that's a toy I'll want in my drawer!
Happy buzzing, my friends!
Copyright © 2020 Eva Sless It is illegal to use any or all of this article without the expressed, written permission from Adult Match Maker and the author. If you wish to use it you must publish the article in its entirety and include the original author, plus links, so that it is clear where the content originated. Failure to do so will result in legal action being taken.