The Trumpeter Swan: Double your Delight!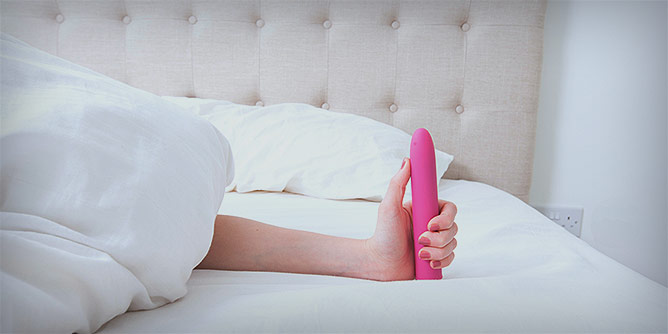 I don't know about you, maybe I'm just a bit weird (definite possibility there), but I like to give my vibrators names. I have "Cedric" and "Minnie" and "Buzz" to name a few and now I have a new favourite. One I like to call "Lochy".
Lochy is a Trumpeter Swan Vibrator and has been given that name because to me it looks a bit more like the Loch Ness Monster than a swan. A gorgeous, slender, pink Loch Ness Monster to be precise.
Made of that super sleek silicone most modern vibes are made of, the Trumpeter Swan is soft and smooth to the touch and fits beautifully in your hands. The round, curled-over ends are perfect for G-spot stimulation and both ends vibrate either together or separately. It's up to you.
It's totally rechargeable too, so it requires no batteries, and once it's fully charged it can last up to fourteen hours! That's a lot of buzz time!
One thing I really liked about this toy was the fact that it only takes a few hours to charge the first time, so none of this waiting 24 hours before you can use your new purchase. It also has a charging light that, once full, turns off so you know when it's ready.
There are three little raised buttons on the middle of the shaft which are easy to find and press and each one works independently. The middle one is the quick on/off button and the other two control the buzzes on either end of the vibrator.
As for the vibrations themselves, they are really quite strong. It doesn't have sequences like a lot of other toys, just one continuous buzz that, if you hold down the button, get stronger and stronger. The little charger light on the vibe flashes while it's moving through the settings and stops once it's at the highest one which, if I do say so myself, is pretty full on.
Through a bit of experimentation and research (I do like to get the best out of these toys for you) I've found if held in just the right spot it can stimulate your G-spot as well as your clitoris at the same time. And if you decide to put both ends on at once, the vibrations mix together and give you some seriously intense sensations. It really is a bit fantastic.
Because the toy is made of beautifully seamless silicone, meaning the charging hole is completely covered when not in use, this vibrator is absolutely, 100% waterproof. I'm not just talking about using it in the shower, you can take it in the bath with you! Or the spa... With the water jets and bubbles and... Okay, I need to find myself a spa.
Because of the fact that all the motors and bits that make it work are underneath the silicone it is really easy to keep clean and dry and no bacteria or anything can collect against anything because it is absolutely seamless. It comes with a silky travelling pouch and, not only that, it also includes a packet of different plug adaptors so you can use it and charge it in just about any country in the world. It also boasts a one year manufacturers guarantee and will be happily replaced if something is not up to the level of perfection that Swan prides itself on.
I really do wholeheartedly recommend this toy and give it a score of 9. Yes 9. It really impressed me that much! For both G-spot lovers and those who prefer the buzz on the outside. It has been designed with the female body in mind. It is soft and flexible and easy to use and, although is phallic in shape does not remind me of a penis in any way. (Not that I have a problem with penises, but I know many of my lesbian mates will enjoy this toy because of its femininity and lack of cock-ness).
In fact I think the only thing I would change about this toy if given the chance would be to make it in a variety of colours. It only comes in this bright magenta pink and, although it's not an unpleasant colour, not everyone likes hot pink and it would be nice to have a choice.
So yes. I think me and my new friend Lochy are going to have some wonderful times together and I hope you all get to enjoy a Lochy of your own!
Happy buzzing, my friends!
Copyright © 2020 Eva Sless It is illegal to use any or all of this article without the expressed, written permission from Adult Match Maker and the author. If you wish to use it you must publish the article in its entirety and include the original author, plus links, so that it is clear where the content originated. Failure to do so will result in legal action being taken.