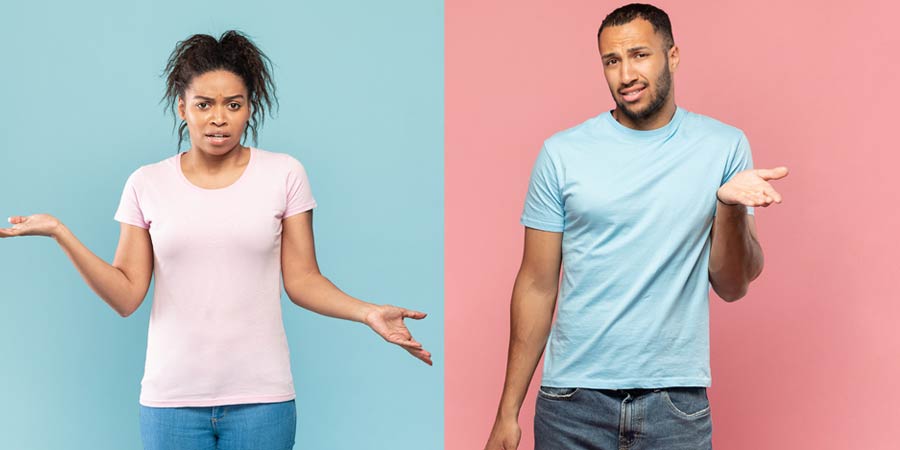 People … I'm bisexual. Which means I get twice as many celebrity crushes as my homo and hetero counterparts. It also means I get lots of fun, unexpected discrimination - hooray! But as a bisexual woman, my experiences are very different to those of bisexual men. And as our lovely members have pointed out, that's something we don't talk about nearly as often as we should!
Being bisexual
There's a lot of discrimination bisexual men and women share, just by being bisexual. And it's especially shit, because a lot of it actually comes from within the queer community.
In the queer community, much like the straight community, biseuxals are often accused of being sexual tourists or visitors to queerness. We don't belong because we haven't 'picked a side' yet. This is part of the trend of purity queerness around 'gold star' status. If you're not familiar, a "gold star lesbian" is a woman who has never had sex with a man, and a "gold star gay" is a man who has never had sex with a woman. It's obviously pretty shitty towards bisexual people, making them feel like they're never 'gay enough' to fit in. But this attitude is also incredibly transphobic and doesn't take into account experiences of sexual assault or people who had to perform straightness in order to survive. And it's just one of the many ways the queer community can make bisexual people feel unsafe or uncomfortable in their space. Even though the first Pride Parade was organised by a bisexual woman, Brenda Howard, these days, Pride Parades have a not great reputation for bisexual people (especially if they're attending with an opposite sex partner).
You kind of expect to get crap from a certain type of straight person (homophobes, that's the type of straight person to be clear). But when it comes from people within the LGBTIQA+ community, we're meant to be looking out for each other. We're meant to understand what it means to be marginalised. Instead of solidarity, we get more discrimination? Ow, that hits right in the feels.
That whole idea of being on your way to coming out as gay or straight is a pervasive one. From both the straight and gay community. It's this idea that bisexuality is a stopping point. Bi men are just stopping over on their journey to gay. Bi women are experimenting or doing it for attention before they settle down with a man. Isn't it interesting how both of these things centre around men as the end goal? More importantly though, it reinforces the idea that bisexuality is part of a 'phase'. Like we're some kind of moon. And the problem is, bullshit like this contributes to why people are reluctant to date bisexuals.
A study that tested people's assumptions about straight, lesbian, and bisexual women found that bisexual women were viewed as more confused, promiscuous, and neurotic than straight and lesbian women. Which, can I just say, is rude.
Bisexual men face similar issues, but according to this study have the added challenge that when it comes to online dating, most women assume they're gay. Which is a pretty strange assumption if he's sliding into your DMs!
All of this is making it sound like people have some seriously fucked assumptions about bisexual people, right? So it's no wonder that a lot of us are reluctant to list it on our dating profiles, instead preferring to go with options like 'heteroflexible'.
Sadly, it's not just our dating profiles though - this study found that cisgender bisexual employees are less likely to be out at work, but those who are report high levels of discrimination. And a Pew Research Study found that bisexuals are much less likely than gay men or lesbians to have "come out" to the important people in their life. Only 28% of bisexuals say all or most of the important people in their life know they're bi (compared to 77% of gay men and 71% of lesbians).
Which is fucking horrible! But sadly, it's not surprising. Sure, on paper it's like "woo, bisexual, twice as many people to date!" But in reality it can feel like you just have twice as much discrimination to deal with every day. Not much of an incentive to be out and proud.
The gendered difference
As bisexual people, there are lots of things we experience as a community. But as men and women dating online, there's lots of things that we experience differently based on our perceived gender.
There's all the usual stuff that straight people have to deal with. Stuff like your 'body count' or how many people you've slept with. But when you're bisexual it can take on a slightly different vibe. Remember the study that perceived bisexual women as more promiscuous? Yeah, that happens a LOT. In fact, bisexual people are generally seen as sluttier than the general population. But, I'm not sure if you know this - the world has slightly different attitudes towards sluttery between men and women.
Bisexual women are more likely to be seen by men as 'easy' and immediately DTF. Couples assume bi women are down for a threesome based solely on the fact that they're bi. Even other queer women see bi women as a 'flight risk' for a serious relationship. All of which means that bisexual women are often seen as only being valuable for a short-term relationship or one night stand. It can leave us feeling sexually objectified. Like we're only good for a root and scoot, but will never be seen as an actual person. It's not great for the self esteem!
By contrast, the objections women have to dating bisexual men can be much stronger. Even queer women see bisexual men as too flakey for a serious relationship. And straight women aren't just worried about being cheated on (and they are), but they're also disproportionately worried about HIV. In a survey of over 1,000 women, 63% of women said they wouldn't date a man who's had sex with another man.
In January 2019, a new study, published in the Journal of Bisexuality looked at how bi people are seen by straight women and men, and gay men. It backed up previous studies, that straight women found bi men less romantically and sexually attractive than straight men. And that they're less likely to date and have sex with a bi guy. Interestingly though, they also perceived bi men to be significantly more feminine than straight men. What's weird though is that this study was literally based on them looking at stock photos of people in a fake dating app, some of which had 'bisexual' in the profile and some of which weren't. Meaning they only found them more feminine looking if they were labelled bisexual.
Anyway, it turns out it's actually a huge loss for these women. The book Women in Relationships with Bisexual Men is based on the insights of 79 Australian women involved with bisexual men and it found that bi men are actually pretty fucking awesome to date. Turns out bisexual men are already used to having to challenge societal norms just by being themselves. Which means they're much more likely to challenge other problematic norms that might otherwise appear in relationships, such as toxic masculinity, or outdated ideas about gender roles, etc. It sounds like dating a bi guy is a great way to get a progressive dude who is willing to work with you on a relationship - who doesn't want that?!
What's interesting is that while bisexual men have to deal with women rejecting them due to fears of being left for another man, the opposite is true for bisexual women. This study found that straight men have a much higher tolerance than women for same-sex cheating. Which explains the 'one penis policy' often encountered in ethically non-monogamous relationships.
If you're not familiar with the one-penis-policy, it's when a man and a woman in a relationship decide to consensually see other people, but the woman is only allowed to see other women. Sometimes it's with a view to including that woman in a threesome or a relationship triad down the line. Which is what creates the high demand for bisexual women on online dating sites - but not equal demand for bisexual men.
Which is not to dismiss the experiences of bi men who are also hit up for threesomes on the regular. Because that absolutely happens! But that can also be a weirdly biphobic space. Couples who are looking for a third (unicorn hunters) can be notoriously specific about what they want, to the point where they often forget they're talking to real people. If the couple are both straight and looking to have an experience with two men and a woman, they can be put off by seeing 'bisexual' on a dude's profile - like, what if he secretly wants to fuck both of us, but we only want him to fuck one of us?!
This is in line with heterosexual hangups around anal play, such as who can give and who can receive and how gay that makes someone. For instance, it's fine for a straight man to want to fuck a woman in the ass. Very hetero. Much straight. But for a man to enjoy receiving anal play in any way is suddenly crossing the line into gayness. Even if it's a woman pegging him. This attitude no doubt contributes to the perceptions of bisexual men as being 'more gay' than straight.
Being a bi ally
So what do we do about all of this? Well, if you're not bi yourself you might consider becoming an ally. You don't need a badge or a cape. All you have to do is just shut down biphobia when you come across it, and try your best not to engage in it yourself.
If you ever found yourself thinking you wouldn't date a bi person, now is the time to ask yourself why. Or if you only ever saw bi people as a sexy accessory to your own fantasies, maybe it's time to engage a bit more with the community and remember that we're real people. Sexy people, yes, but people with feelings.
Remember that we aren't moons - there are no phases. We are what we are. We're attracted to the people we're attracted to. We're not straight when we're in a relationship with an opposite sex person and we're not gay when we're in a relationship with a same sex person. The same way you're not asexual when you're single.
Having a better bi time
But what if you are bi? How the fuck do you navigate this minefield of bullshit safely? One good way is to get involved with your fellow bisexual community. There are literally dozens of us! We have radio shows, websites, podcasts, Facebook groups, subreddits, discords - you name it, we've bisexualised it. You don't have to post anything or comment on anything, sometimes just lurking and reminding yourself that there are other people like you out there can be enough. But if you want dive in and fly your pink, purple and blue flag, then go for it! Network and get knee deep in that community - that's what they're there for!
On the dating front? There's no specific advice I can give for just being bisexual on the internet. But what I can categorically say is, you're not alone. And you don't deserve to be treated like you're any less than anyone else because of who you're attracted to. It can be exhausting and frustrating coming up against other people's prejudices, so make sure that you're kind to yourself. Take time and space from your dating profile when you need it and spend time with the people in the real world who value you. Remember your worth. Because you're fucking awesome!
Copyright © 2023 Miss Smut Buttons It is illegal to use any or all of this article without the expressed, written permission from Adult Match Maker and the author. If you wish to use it you must publish the article in its entirety and include the original author, plus links, so that it is clear where the content originated. Failure to do so will result in legal action being taken.
The content posted on this blog is intended for informational purposes only and the opinions or views within each article are not intended to replace professional advice. If you require professional relationship or sexual health advice you should consult with an appropriately trained and qualified specialist.