How to do a Pre-Hook-Up interview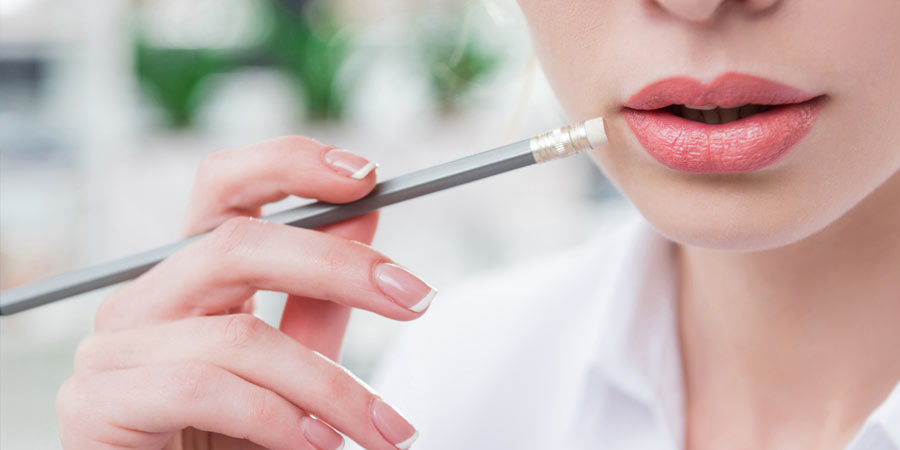 Meeting a new potential playmate often feels like a job interview: we pick our best head shots and obsess over what to say first. A confident conversation could get you off to a great start, or bad joke could spoil everything.
It's no different when we meet new people online. We all want to impress, right? But it's a two-way process – while we're being measured up, we also need to ensure that our new friend meets our standards. As you're exchanging flirty messages, don't forget to ask the right questions.
A pre hook-up interview is a great way to ensure potential sexual partners suit you before you meet them in person. It doesn't have to involve a clipboard! Often, it's just a matter of paying attention to the all-important signs.
If you're stuck for ideas, here are my interview criteria – and a few easy ways to ask, if you're not sure where to begin.
Why do they want the job?
We all want to be appreciated, even during a casual hook-up. We don't want to feel as though we're being used.
Spending a while chatting to someone online can help you to work out whether they find you interesting and attractive, or whether they just want another notch on their belt. If your date can't tell you what they like about you, or what they'd like to offer you, they might not be fully invested in the whole experience.
Useful lines:
"What do you look for in a hook-up partner?"
"Do you think we'd get along in person?"
"How are you feeling about this conversation right now?"
Do they have the necessary skills?
Good sex requires skill, enthusiasm, and experience. This is especially true if you're hoping to get up to something advanced, such as kink or group play! But even a standard one-on-one demands a basic level of communication and emotional maturity.
It's not enough for someone to say, 'I know what I'm doing.' It needs to be demonstrated – through actions, or experience. Asking them what they've done in the past is helpful – even a story of a date gone wrong can be useful, if they handled the situation well.
Communication, respect, and the ability to wield a flogger are skills that can be learned. But if your potential partner hasn't, you might prefer to wait for someone who has.
Useful lines:
"So, you're into kink? What sort of stuff have you done in the past?"
"Have you tried hooking up before? How did it go?"
"Tell me your last embarrassing date story!"
What's their plan for the future?
You don't need to quiz your date on their five-year plan; but you DO need to know how they're going to treat you in the morning. If your partner runs off the next day without so much as a 'thank you,' you might not feel great. Conversely, if you're looking for a one-night stand, you don't want to shag someone who hangs around your house for three days afterwards.
Useful lines:
"Tell me about your last date – how did it go?"
"Are you still friends with anyone you've met online?"
"Do you like to hang out with people you sleep with, or is it always a one-off thing?"
"Don't call us, we'll call you."
At the end of the day, it's up to both of you to decide whether to take things from the screen to the bedroom. Snap decisions are difficult – especially when someone is keen to meet up straight away! But it's worth taking your time. This could mean closing that browser window for a few minutes to think about it or arranging to check in again in a few days' time.
This allows you to commit fully to the experience. It means you might spot warning signs that would otherwise ruin your night. Best of all, a little delayed gratification can be a huge turn on.
If your partner tries to rush you into hooking up, despite your efforts to slow down, it could be a sign that they don't respect your boundaries. Being pressured into sex isn't fun – and could mean trouble later, if you get naked with them.
Useful lines:
"It's been great chatting – can I get back to you in a few days?"
"How about I send you a message next week and see how you're feeling?"
"You want to meet tonight? Let me think it over for a minute."
A good hook-up takes time, energy, and commitment...don't waste your efforts on someone who isn't a team player. Make sure you do your interview! By staying alert for the signs, you'll know when you've found the right person.
Copyright © 2023 Georgie Wolf It is illegal to use any or all of this article without the expressed, written permission from Adult Match Maker and the author. If you wish to use it you must publish the article in its entirety and include the original author, plus links, so that it is clear where the content originated. Failure to do so will result in legal action being taken.
The content posted on this blog is intended for informational purposes only and the opinions or views within each article are not intended to replace professional advice. If you require professional relationship or sexual health advice you should consult with an appropriately trained and qualified specialist.