Vajazzle your Christmas Tree with Vaginaments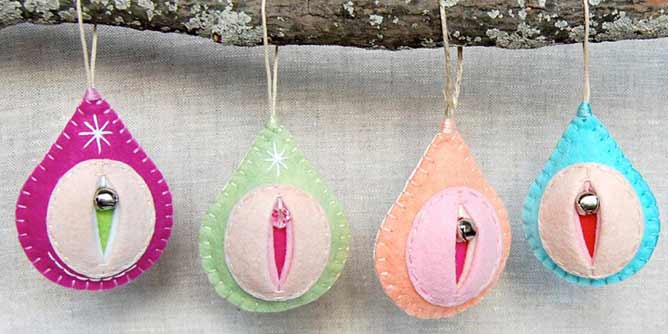 Whether you own a vagina or love vaginas, we had to share these adorable Vaginaments© that we discovered. If you're tired of tinsel then we can't think of a more appropriate way to deck your halls this Christmas.
Each Vaginament© is a unique, hand crafted design which is then lovingly embroidered. Designer Suzanne McAleenan says that "each one is sewn by hand, so no two are alike, just like in the real world!" Bits pucker and dimple slightly so every item is unique! They feature a Christmas bell clitoris and come with snowflake pubes (or not for those who prefer the Brazilian look).
"Every time a bell rings, a Vaginament© gets her wings!"
Feltmelons are based in Canada but their lovingly handmade vulva baubles can be purchased online