Who is your celebrity hall pass?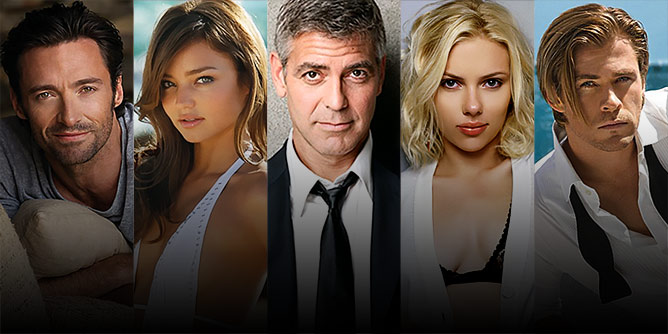 In school a hall pass is something that lets you get away with straying from the classroom. In life a hall pass is something that lets you get away with straying from your significant other.
A celebrity hall pass, therefore, is not just a hall pass that lets you sleep with a stranger, but one that essentially says, should you ever come across this celebrity "you have your partner's consent to have sex with them without any repercussions".
While some couples will have an agreement about more than one celeb - perhaps a "Top 3" - most of us have just one name in mind waiting for that very special moment.
Even if you haven't discussed it out loud, we're willing to put good money on the fact that you already have a name in mind. Whether it's Daniel Craig winning the war against evil as James Bond 007, super sweet and gorgeous inside and out Miranda Kerr, god-like Chris Hemsworth as Thor or Margot Robbie for ... well, just being herself really.
Of course, we're just going to go ahead and assume that if we actually met one of these famous 10s, they would be more than willing for a night of wild sex. Although, we've no doubt many of our kinky AMM members could teach them a thing or two.
We're curious to know which celebrities our AMM members might be dreaming about for their very own hall pass. Our Poll was created using the top picks from our AMM Support Staff so make sure you let us know if your favourite made the cut. If your celebrity hall pass isn't mentioned in our extended list below, please let us know below in the comments.
Men
Chris Hemsworth
Hugh Jackman
Kit Harrington
Daniel Craig
Joe Manganiello
Channing Tatum
Alexander Skarsgård
George Clooney
Matthew McConaughey
Ryan Gosling
David Beckham
Liam Hemsworth
Ryan Kwanten
Leonardo DiCaprio
Sam Worthington
Joel Edgerton
Women
Mila Kunis
Miranda Kerr
Margot Robbie
Sofia Vergara
Jessica Alba
Scarlett Johannson
Katy Perry
Blake Lively
Kylie Minogue
Megan Gale
Rihanna
Jennifer Hawkins
Emma Watson
Sarah Michelle Gellar
Angelina Jolie
Jennifer Lawrence
Copyright © 2018 Adult Match Maker It is illegal to use any or all of this article without the expressed, written permission from Adult Match Maker and the author. If you wish to use it you must publish the article in its entirety and include the original author, plus links, so that it is clear where the content originated. Failure to do so will result in legal action being taken.