Avoid the Pitfalls and Make Your Threesome Fantasy a Reality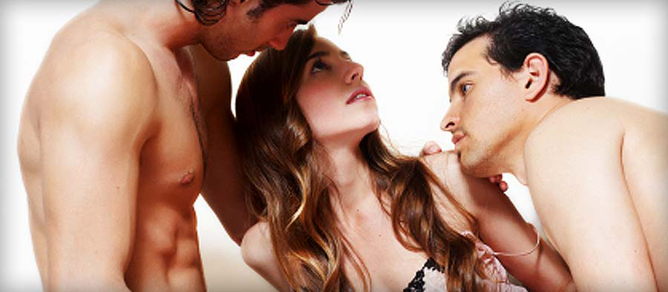 Now you have your first threesome date booked in so it's really important to be as prepared as possible; physically, mentally and emotionally as it has the potential to make or break you... Ok that was the warning label, now onto how you can turn a fantasy threesome into a titillating reality.
So apart from the obvious; make sure you have condoms and lube, a place to play with a drop sheet and mop-up towels (you just never know), there are a number of things you need to pre-plan or discuss to make sure your first three way experience is utterly mind-blowing and not a dramatic blow out.
Discuss the expectations each of you have about the night. While I always suggest going in with no expectations and going with the flow, there is always at least one person who gets disappointed because things "didn't turn out" which suggests they had a way they expected or hoped for it to go… So get all potential expectations and I hope's out on the table before the big event so you know what you are both expecting from each other as well as the third person, that way you can both lead the night in the same direction, or be reminded that just having an expectation of enjoying the experience, no matter what happens, is the best kind of attitude to have.
Decide how the third person fits in! And I don't mean Part A goes into Slot B… Is the third person purely for one of you or do you want their attention to be on both? And if you want it on both, is it ok for their attention to be on just one for a little while? As that sometimes happens. Also, are there any actions you aren't comfortable with the third taking or being involved in? If it's your first threesome experience, you might prefer it to be play only and no actual sex, or perhaps it just for a bisexual exploration so the sex with the third is just with the same sex partner. Once you work out how you want your third to participate, let them in on the game plan otherwise they will just go with the flow and may inadvertently try something one of you isn't comfortable with.
Have a safe word which let's everyone know you need a few moments or to discuss something before going further, you know, a "time out". With it being your first threesome experience there is one thing you can't really plan for and that's how you will actually cope emotionally when it's all happening. To create an extra sense of security (which is the best feeling to go into this with), agree to have an out for all if someone's emotions start to impact their enjoyment of the night. After that, it's even more important that you a) use it if you are starting to feel a bit uneasy or uncomfortable, or b) stop all play if anyone uses it and openly discuss what's going on for them so you have a better chance of continuing to play after.
Decide how you are going to end the night. Are they sleeping over or would you prefer they hit the road with a "thanks for coming" (pun intended)? Have you got a separate bed for them or are they sleeping with you guys? Have you got a plan for breakfast if they stay? Make sure you have multiple breakfast options in case they have food allergies or are just fussy (we all have our quirks). Oh and again, let them know what options they have so they can decide something which will be ok with you two too.
Go easy on each other! Remember this is your first time and just like when you had sex for the first time or had your first serious relationship, you didn't get those 100% right either. To minimise potential issues, stick to what you both agreed to for the night in terms of your boundaries but know that you can't plan for every scenario so if you haven't discussed something, assume it's a "not ok" and discuss it in the debrief. Outside of that, we all make mistakes in the heat of the moment or we don't end up feeling as ok about something we thought we would so be forgiving with each other as you take these first steps!
Clearly communication is the key to success in this and you can't do enough of it; between yourselves and with your playmate/s so you are all on the same page. Now you've got what you need so go forth and enjoy, and let us know how your first experience goes, we love to hear your stories (yes, we are voyeurs too!).
Copyright © 2023 Chantelle Austin It is illegal to use any or all of this article without the expressed, written permission from Adult Match Maker and the author. If you wish to use it you must publish the article in its entirety and include the original author, plus links, so that it is clear where the content originated. Failure to do so will result in legal action being taken.
The content posted on this blog is intended for informational purposes only and the opinions or views within each article are not intended to replace professional advice. If you require professional relationship or sexual health advice you should consult with an appropriately trained and qualified specialist.