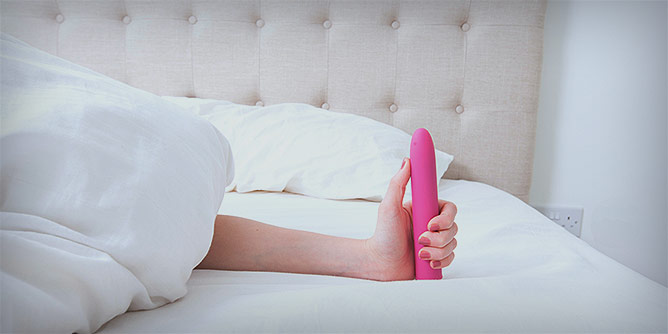 The Leaf Bloom is a cute little toy shaped like a little budding flower and stem, and comes complete with two interchangeably vibrating ends. It has a good range of buzz settings, not too strong but strong enough so that they can be felt. It fits nicely in your hands and is flexible and bendy so it's good for Gspot penetration as well as clitoral stimulation. The functions are easy to use, just hold the button down and the buzz increases. You'll know when you've got to the highest setting as the little light stops flashing. It comes with Swan's lock feature too, so it can be safely stowed in a bag without fear of accidentally setting off. It is also 100% waterproof, rechargeable and super easy to clean. A great little item to stick in your handbag, or leave under your pillow. Non-confronting and very good for people who are just starting to get into toy play.
On the surface it's pretty good. It does what it promises and feels pretty good doing it too, but I have to say I was a little bit disappointed. Not in the toy as such, but in the way it is marketed. Let me explain. I am cynical, yes, and you may well disagree with me. That's cool. We are all different and have different opinions.
Before I continue, I think I should make something clear. I believe in absolute honesty when it comes to reviewing. It doesn't matter who is asking me to review it, whether it is a company that sells them or the company that actually makes them, I will give you nothing but my honest opinion. I am not paid to sate a company director, I am paid to give you the best advice I can and gain your trust and respect through that honesty.
So, now we have that little disclaimer out of the way, like I said, my issues aren't with the actual functions of this toy, which is part of a new range by the Swan toy company (One of my favourite toy companies out there). My problems are with the fact that this one is specifically advertised and marketed towards people with an environmental conscience.
Now don't get me wrong. I'm all for environmentalism and saving the trees and all that jazz, but I am also aware that many many companies are getting on the "green" bandwagon without doing anything terribly different at all. Unfortunately I think this is what Swan have done here.
What makes me say this? Well, it's partly because there is nothing about this toy that is different from any of their other ranges. It is made of exactly the same material (100% silicone), has the same sort of charger and hidden charge connection (making it 100% waterproof) and is installed with a lithium polymer battery that powers the very effective powerbullet vibrators. Exactly the same as all their toys. In fact the only thing that makes this toy any more "environmentally friendly" than any of the others is the fact that it comes in a brown box made of recycled cardboard and has the tagline "Natural Pleasure". Oh, that and the rather bright shade of green it comes in.
Okay, so the colour thing is a personal preference, but to me it is not a nice shade. It's too green. Too bright. Too... I don't know... Snot coloured.
Still, it does have a great buzz and is very flexible to reach all your good bits, so I will give this toy a 6.5/10. It loses marks for the colour, not to mention the false environmental message, but scores highly on usability, especially for newcomers to the toy scene.
Happy buzzing, my friends!
Copyright © 2020 Eva Sless It is illegal to use any or all of this article without the expressed, written permission from Adult Match Maker and the author. If you wish to use it you must publish the article in its entirety and include the original author, plus links, so that it is clear where the content originated. Failure to do so will result in legal action being taken.