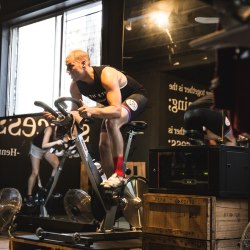 Bio
Ruben Rocha believes that health and fitness is the key to enhancing your life experiences with the people you love. He is the owner of At Ruben's, a boutique health Club in Marrickville, in Sydney's inner west.
With a holistic view and approach to health and fitness a balance between strength, cardio, flexibility and nutrition is at the core of every training program.
Through unique and exciting exercise classes there is a fitness community that inspires, guides, and challenges… Achieving freedom by health and fitness.
Formally educated with a Bachelor of Science with a major in Human Physiology, Ruben has worked in the fitness industry for over 15 years.
Having travelled around the world including the Caribbean, Mediterranean and UK as a Personal Trainer, Ruben has delivered 1000's of sessions ranging from Personal Training to Yoga, Spin, Pilates, Aerobics and Health/Motivation Seminars.
Ruben believes to take whatever you do seriously, but not yourself and looks forward to training with you.