Standard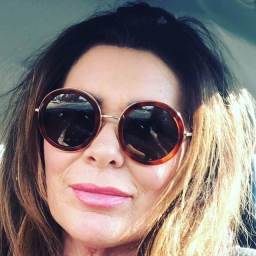 Member Validations (1)
Angie is as gorgeous as she looks and so classy and elegant in every situation. Treat her like thecrare gem she is and you will be enchanted as you explore her many facets. -
BlurredLines69
View More
Click to locate
Hope Island
, QLD
57, Female
Hope Island, QLD
Looking for Men between 45 & 60 for A relationship
Are you out there?
Yes I am 57 and confident. Happy within and comfortable with my sexuality.

Looking for a confident respectful male with a view to finding the man perfect for me.
Prerequisite is lunch/dinner and drinks. I don't do booty calls. First, Chat here, then a chat by phone, then coffee, lunch or dinner then ... well, let's see where it goes ...

PS – nothing puts me off more than seeing a profile full of dicks. When will men learn that we're deeper than that!

You'll find my profile straight up and I make no apologies for it. That's because I know what I want. No I'm not a snob but I value and respect myself and I simply prefer not to waste anyone's valuable energy. So read on at your own risk ...

A bit about myself ... I love boating (being ON the water not in it), travel, dining out, Champagne, Sav Blanc, Chivas Regal, strawberries, cherries, chocolate, family and friend time, beach walks, laughter, romance and keen to get back into bushwalking, yoga and kayaking (when I stop being so busy). Wanted to learn to JetSki this year but I've decided I'm probably better positioned as a passenger....

I've an eclectic taste in music and like to follow astrology and the esoteric. Spirituality fascinates me but I'm not an over the top "love and light" crazy possessed woman.

I love meeting and mixing with people and am confident in many different situations and cultures. I love diversity. Thus my passion to travel.

I take care of myself and work out (low key resistance training). I aim to keep in shape and keep healthy. I have a young mind.

I love to laugh and have fun but also have a serious side. I don't expect to live in a mans pocket but I expect exceptional communication, passion, truth, trust, honesty and above all else loyalty. If you feel the need to muck around Or have or want several lovers, you're also NOT for me.

What am I looking for? Read below.
Ideal partner
Open minded but not kinky.
Loyal, reliable, supportive and wants to be in a one woman relationship.
Stable financially and emotionally.
Knows how to treat a woman both in and out of the bedroom and is not selfish.
Walks the talk – doesn't make promises that he cannot keep!!
Must be intelligent, understand good communication and be a great communicator.
Wants to do activities and spend quality time together. If you're someone that has to spend every Friday and Saturday night at the pub with the boys, then you're certainly not for me.

My absolute musts for a man are ... he must take care of himself (no beer belly), be in reasonable physical shape and be 5'11 or taller - I like my high heels and won't give them up.! I want a sensual man. A man who is also sexual and likes to be pampered; and one that will reciprocate! He will be chivalrous, loving, passionate, sensual, generous, kind and supportive. In return I offer all the above with my love, caring, connection, communication, kindness and support.... plus plus plus.
I have much love to give to the right man. He must want and be able to share quality time with me and enjoy physical touch. I love to spoon ... to feel skin on skin.

If any of this resonates with you then say HI ... if you're not interested, I won't be offended and, if I'm not interested please don't be offended ... I'm sure the perfect woman for you is not far away.

| | | |
| --- | --- | --- |
| Gender: | Female | |
| Age | 57 | |
| Location | Hope Island, QLD | |
| Status | Single | |
| Sexual Preference | Straight | |
| Can Host | It Depends | |
| | | |
| --- | --- | --- |
| Height | 167.5 cm (5'6'') | |
| Weight | 67 kg | |
| Body Type | Average | |
| Eyes | Hazel | |
| Hair | Brown | |
| Tattoos | Arm, Shoulder, Belly | |
| Piercings | Ears | |
| Pubic Hair | Shaved / Waxed / Lasered | |
| Bra Cup | E and Above | |
| | | |
| --- | --- | --- |
| Lifestyle | Relaxed | |
| Drinking | I drink socially | |
| Smoking | Non-Smoker | |
| Practice Safe Sex | Always | |
| | | |
| --- | --- | --- |
| Ethnic Background | White / Caucasian | |
| Personality | Outgoing / Sociable | |
| Star Sign | Capricorn | |
| | | |
| --- | --- | --- |
| Have Children | Yes, but don't live with me | |
| | | |
| --- | --- | --- |
| Education | Bachelor degree | |
| Industry | Self Employment | |
1 on 1 sex
Breast & Nipple Play
Lets chat about interests
neck and bitting softly
Oral Sex - Giving
Oral Sex - Receiving
Spanking
touch and kissing