Silver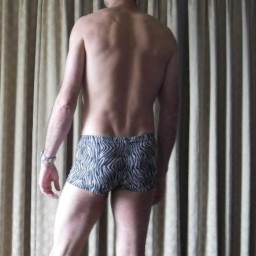 Click to locate
Ballarat
, VIC
Looking for Women, Couples, Groups between 18 & 65 for A relationship, Casual encounters, Something discreet
I recently found a new fetish, can you guess what it is?
Hi there. I'm a single man who is looking for some care free fun in life. This means fun & no hassles. I'm primarily seeking women who'd like to let go a bit and share some fun times & have a general social time with.

I am also interested in couples looking for that extra guy to live out a fantasy 3-some or have a
regular 3-some with. I've played with several couples and can certainly perform in this situation.

I like to go out for meals, drinks & socialising & meeting new people is always fun. I enjoy seeing live bands. I have a rather quirky & dry sense of humour. I do my utmost to protect the privacy of the people I've met from online.

We are all here for a bit of lighthearted fun but it can be more if we really hit it off. So why sit back & send 20 emails to people who never reply & don't take your time & effort seriously. I'm serious about meeting people. I have been online adult dating for ages and I've met all sorts of people. I know how it all works and I've been stood up etc etc. I don't muck people around or waste their time and I would prefer you treat me likewise.

If you're really shy about it I'm not going to give you grief for wanting to meet just for a drink & no more. Life's too short for hassles so I won't be giving you any. If we meet and don't click then you are totally welcome to just leave it at that.

We are meeting people in this manner to have fun so I accept that we need to get along to be able to have that fun. I prepared to travel to meet genuine people. I can webcam chat to prove that I am who I say I am. I am also patient, I don't expect to email you today & have sex with you tonight. But I will if that's the way you play it.

Sexually I am very giving. I love giving massages as a precursor to hot sex. Even better if it's in the bath together. I adore giving oral sex so lie back and prepare to be licked (or sit on my face and grind away). I am 6ft tall, slim, fit, clean shaven up & downstairs and tanned all over. I am above average in the endowment department being both longer & thicker than most men. I can give you 7 genuine inches of penetration. (most women gasp, but soon sigh) Safe sex is standard procedure for me. And I've had the snip and had the vasectomy confirmed so I'm safe for that department.

Sydney university & all other institutions please feel free to study me like I'm a lab rat. But at least give some of that Uni pussy. Just think of how much more you'll learn about human behavior if you partake in it. I'm not an AXE MURDERER (I lost my axe) so you'll be safe. But - YOU DO NOT have permission from me to use any of my profile - text or pictures in any form of forum both current & future...(or in the Tardis) If you have or do, it will be considered a violation of my privacy and WILL BE subject to a legal rooting... Plus, I'll fuck you so hard your eyes will water.
Ideal partner
My Ideal Person, If there is such a thing as an ideal person? Maybe someone who has an open mind, is fun to be around. One who looks at life as an adventure waiting to happen or maybe they need to make it happen in order get it to happen. I believe that we open our own doors in life. Sitting back just doesn't work a lot of the time. Get up, open that door & step through it. Or have sex with the door open so anyone walking past can join in.

A fun, trustworthy person is important to me.
| | | |
| --- | --- | --- |
| Gender: | Male | |
| Age | 53 | |
| Location | Ballarat, VIC | |
| Status | Single | |
| Sexual Preference | Straight | |
| | | |
| --- | --- | --- |
| Height | 183 cm (6'0'') | |
| Weight | 76 kg | |
| Body Type | Athletic | |
| Eyes | Green | |
| Hair | Brown | |
| Piercings | Belly Button | |
| Body Hair | Light | |
| Pubic Hair | Shaved / Waxed / Lasered | |
| Endowment Length | 18 cm (7'') - 20 cm (8'') | |
| Endowment Girth | Thick | |
| Circumcised | Yes | |
| | | |
| --- | --- | --- |
| Drinking | I drink socially | |
| Smoking | Non-Smoker | |
| Practice Safe Sex | Always | |
| | | |
| --- | --- | --- |
| Ethnic Background | White / Caucasian | |
| Star Sign | Leo | |
| | | |
| --- | --- | --- |
| Education | Diploma/Certificate | |
| Industry | Self Employment | |
1 on 1 sex
Anal sex - Giving
Experimenting and exploring
Group Sex / Orgies
Handcuffs
Laughing during sex
licking pussy.
nipple and breast play giving/receiving
Oral - did I mention I LOVE giving?
Oral Sex - Giving
Oral Sex - Receiving
Picture swapping
Sex in public / Outdoors
Sitting on my face
Spanking
Sucking breasts while you're on top
Toys (Vibrators / Strapons etc)