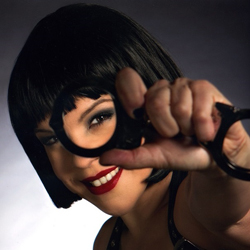 Bio
Mistress Jane is the Melbourne-based Kink and Fetish Queen that many of the local scene have all come to know and love.
Whether its performing at hen's parties across Victoria with Tamed by Jane, where she introduces the uninitiated to the joys of rope, bondage, impact and sensation play, hosting an elite and kinky swingers party or exhibiting her unique brand of fetish photography, it's no wonder Jane has now found herself co hosting the Our Kink podcast with fellow AMM sexpert MisKnickers.
Jane's background in sex and community work, as well as education has positioned her as an unashamed sex positive, feminist, FemDomme. With a fascination for anything fetish, and a particular love of latex, Jane is excited about bring her special brand of deviance and kink-positivity to her community in any way she can.
Articles by Mistress Jane